On the afternoon of December 10th, USTB held the 2021 Conference for Enrollment and Employment Wok in the Academic Conference Hall. Mr. WU Guilong, Chancellor of USTB and Prof. YANG Renshu, President of USTB attended the meeting. The meeting was chaired by Prof.YU Chengwen, Vice Chancellor of USTB.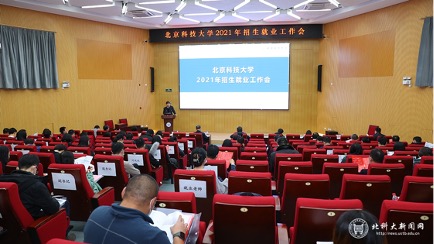 Mr. HAN Jing, Associate Dean of Graduate School, reported on the enrollment work of postgraduates in 2021. The year of 2021 postgraduate enrollment in USTB is promising, with a stable structure of student population. In 2022, USTB will further improve the propagation and implementation of the policy of undergraduates through training and excel in the standardized management of postgraduate enrollment.
Mr. LV Chaowei, Director at the Department of Admissions and Career Services, focused on the admissions and trends of undergraduate majors in the enrollment reform, as well as the analysis of various results and data of the USTB's employment work. He also put forward opinions and suggestions on the challenges faced in enrollment and employment in 2022.
Ms. ZHANG Qiuman, Chancellor at the School of Materials Science and Engineering, Mr. HE Wei, Vice President at the School of Automation and Electrical Engineering, Mr. SU Dong, Chancellor at the School of Mechanical Engineering, and Mr. CHEN Yulai, Chancellor at the Institute of Engineering and Technology shared their typical experiences and innovative practices on the topics of undergraduate recruitment, graduate recruitment, and employment, respectively.
、
Mr. WU Guilong pointed out that enrollment and employment work of universities are very crucial, which is related to the selection and employment of Chinese talents, vital interests of the people and social security and stability. Therefore, USTB should fully understand its necessity and excel in enrollment and employment of universities from the perspective of protecting people's livelihood, the requirements of promoting development and the mission of education.
Mr. WU Guilong requested all the schools and postgraduate training units to strengthen the implementation of responsibility, the university and different schools coordinate and participate in the recruitment and employment. These departments should also strengthen resource expansion, adhere to open schooling, and continue to deepen industry-education integration and school-enterprise cooperation. All members of the faculty should concentrate and make every effort to ensure the stability of USTB's enrollment and employment next year to welcome the opening of the 20th Party Congress with excellent results.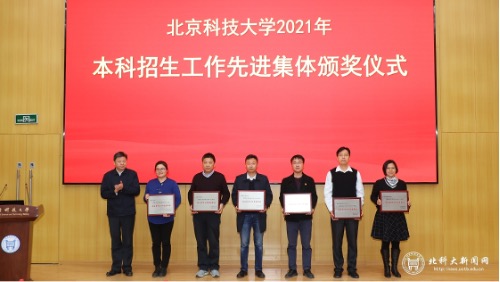 Draft: CUI Zihan
Revision: CHENG Mingyuan