On June 13th, the Canadian Academy of Engineering Annual General Meeting was held at local time. At the meeting, the list of new members of CAE for 2022 was officially announced, and Prof. LUAN Benli of the USTB National Center for Materials Service Safety was elected as a new member of academicians of the Canadian Academy of Engineering.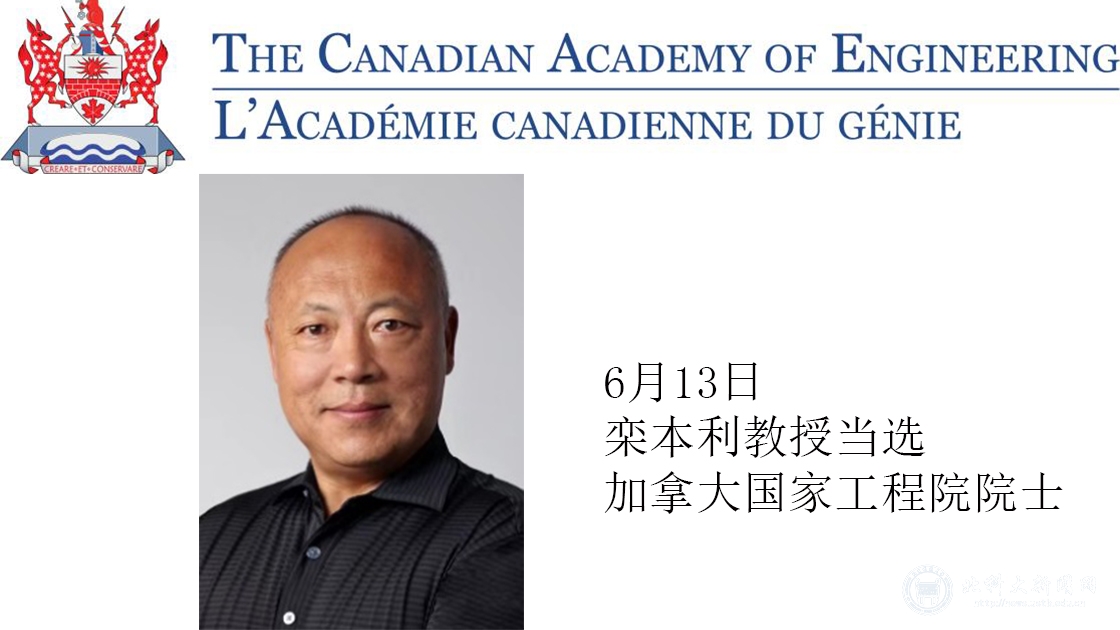 The Canadian Academy of Engineering is a Canadian national academy that comprises over 800 distinguished professional engineers who have made outstanding contributions to engineering in Canada and around the world. Elected on the basis of "their distinguished service and contribution to society, to the country, and to the profession", who have demonstrated their dedication to the application of science and engineering principles to advance social, environmental, economic, and technical solutions.
Prof. LUAN graduated from the University of Science and Technology Beijing (formerly known as the Beijing Institute of Iron and Steel Technology) and received his bachelor's and master's degrees in engineering in 1984 and 1987, respectively, before working at the Tianjin University. He received his Ph.D. in materials engineering from the Wollongong University in Australia in 1997. Since 2002 Prof. LUAN worked as a visiting professor at the Western University in Canada and registered as a Canadian Professional Engineer in 2002. In August 2017, Prof. LUAN joined the USTB National Center for Materials Service Safety. In June 2022, Prof. LUAN was elected as a member of the Canadian Academy of Engineering.
As an outstanding scholar of USTB, Prof. LUAN strives to promote the development of interdisciplinary new technology platforms and professional team construction. Adhering to the motto of USTB "Seeking Truth and Promoting Innovation" and the fine tradition of being "Rigorous academic atmosphere, advocating practice", Prof. LUAN emphasizes the construction of a solid style of learning and cultivating students' academic philosophy of being assured, rigorous, and truth-seeking. Prof. LUAN leads a team dedicated to substantive, cross-industry, multi-disciplinary research and international cooperation in materials science in the engineering fields of energy, resource regeneration, and deep geological disposal of spent fuel.
Prof. LUAN's team has committed to energy and environment, biomedical materials, and other areas of frontier research, and has established reliable long-term cooperative relations with counterparts in Canada, the United States, France, Australia, and other countries and regions. His team has successfully led a number of international green manufacturing demonstration projects and international cross-field and cross-industry technology cooperation R&D alliance of the whole industrial chain and has a significant international influence in innovation, new technology industrial transformation, and high-level talent cultivation and training. Prof. LUAN attaches great importance to the foresight and discussion of scientific research strategies, for example, the classic review of prospective magnesium alloy surface engineering co-published by him and his postdoctoral fellows have been cited for more than 3,100 times (Google Scholar).
At the same time, Prof. LUAN has long been keen on public welfare and has been deeply involved in multiple international energy, environment, and sustainable development organizations and projects as a volunteer and sponsor.
Link: www.cae-acg.ca/directory/#/action/Listing/value/11782/searchID/321942/cid/1498/id/2201/Luan%2c-Ben
Draft & Revision: CHENG Mingyuan