On the afternoon of April 8th USTB held a seminar for the purpose of improving the overall quality of its online teaching efforts. Prof. WU Shengli, Director of the Teaching Committee at the School of Metallurgical and Ecological Engineering and holder of the title "Prestigious Teacher of Beijing", was invited to be the keynote speaker. More than 100 teachers as well as the members of the "Ferrous Metallurgy I" teaching team participated in the online seminar.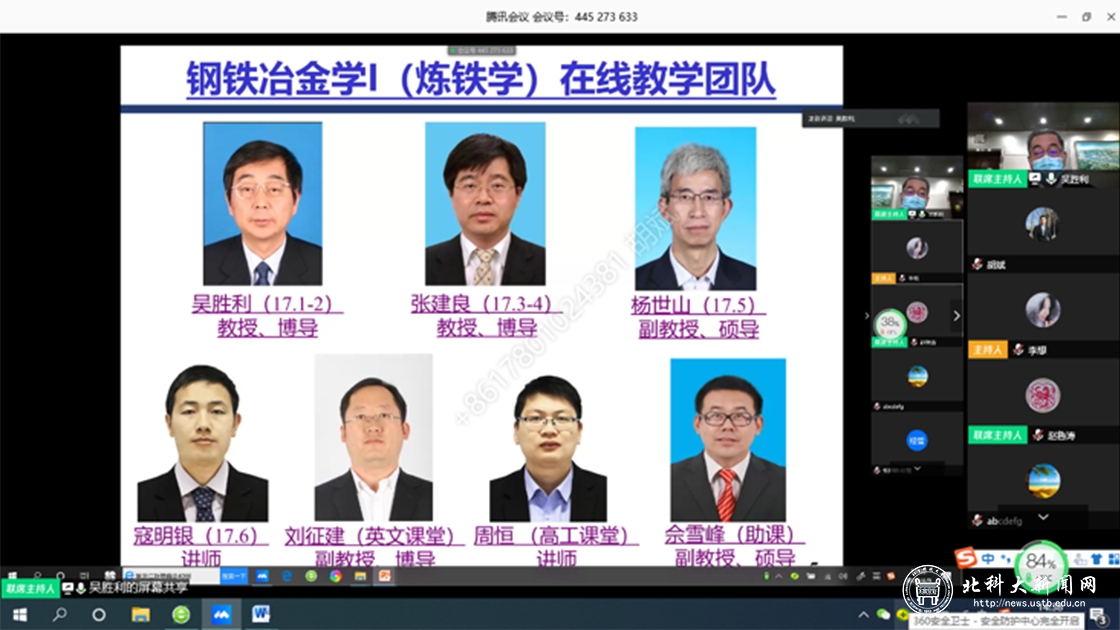 Prof. WU's speech took the theme of "Closer student-teacher interaction means greater online teaching quality". Taking the course "Ferrous Metallurgy I" as an example, he shared his experience in developing the course overview, course design structure, online implementation, and mid-term exams for an online course. This was done in regards to the main metallurgy course, the English-language course, the Excellent Engineer Training Program, and the online tutoring program. This was done in line with the Online Teaching Guidelines provided during the epidemic period by Mr. WU Guilong, Chancellor of USTB, and Prof. YANG Renshu, President of USTB.
Prof. WU gave a detailed introduction on the teaching outcomes of the "Ferrous Metallurgy I" teaching team and their teaching methods as developed by previous teachers, the effects of university-research-industry collaboration efforts, and teamwork in the teaching process. The move to online teaching has presented certain challenges, for example, classes have become intangible for teachers are now facing a computer screen rather than students, it has become more difficult to apply advanced technology to lessons, and teaching quality varied greatly between different instructors. Prof. WU then shared his suggestions for addressing these challenges; on the topic of online instructional design, he shared the concept of team-based collective lesson preparation and PDCA quality control, emphasizing the importance of maintaining a high level of interaction between teachers and students. To this end, he suggested that different instructional methods can be used for online teaching. In terms of conducting online examinations, he explained three methods he tried in giving mid-term exams.
Following his speech, teachers including ZHANG Jianliang, SHE Xuefeng, YANG Shishan, LIU Zhengjian, ZHOU Heng, and KOU Mingyin shared their online teaching experiences. They each spoke of what they had achieved in sharing best-practices within their team, integrating of research and teaching methods, and talent cultivation.
During the Q&A session, Prof. WU and the attendees had a vigorous discussion on issues such as real-time interaction in online classrooms and conducting online exams.