Recently, USTB held the 6th and 7th lecture of "Rectitude Classroom" and training of full-time and part-time discipline inspection cadres in the Auditorium & Staff Activity Hall. Prof. PENG Qinghong, member of the Standing Committee of the Party Committee, Minister of the Propaganda Department, Head of the Faculty Department, Dean of the School of Humanities and Social Sciences, and Mr. CAO Guangyuan, member of the Party Committee and Director of the Finance Department, delivered special reports respectively. The event was hosted by Mr. WU Haowei, Associate Secretary General of the Discipline Inspection Committee, Director of the Discipline InspectionCommittee Office, and Director of the Inspection Office.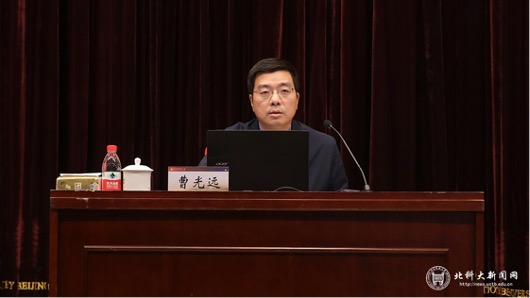 In the sixth lecture, Mr. CAO Guangyuan explained the financial regulations of USTB by delivering a speech titled "Financial Management and Discipline". He focused on the financial risks in income, expenditure and research fund management, combined with big data analysis and typical cases of financial discipline violation to sort out the problems and reasons, and further emphasized the financial discipline and work requirements.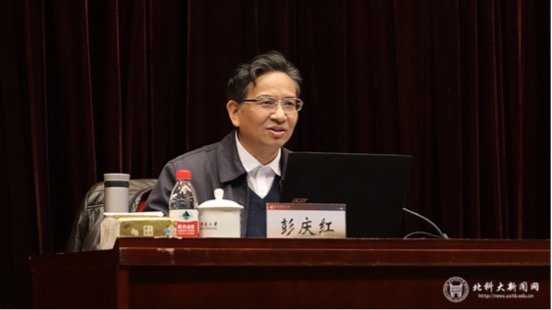 In the seventh lecture, Prof. PENG Qinghong emphasized the importance of paying attention to social trends by delivering a speech titled "Paying Attention to Social Trends and Strengthening Ideological Guidance". He explained how to strengthen the ideological guidance of college teachers and students around some social trends that college cadres need to focus on and their influence on teachers and students, and further strengthened the extreme importance of ideological construction in universities.
Members of the USTB's Discipline Inspection Committee, secretaries of Secondary Party organizations, vice presidents in charge of teaching and so on, a total of more than 200 people attended the relevant study. So far, the 2021 year of "Rectitude Classroom" and the training of full-time and part-time discipline inspection cadres have all been completed. The Classroom was arranged for a total of 7 lectures, covering the spirit of the eight-point decision of the Central Committee, the construction of the party style and incorruptible government and so on. A total of nearly 1000 people attended the lectures, achieving effective results.
Draft: Zihan CUI
Revision: Mingyuan CHENG