On the afternoon of August 29th, the Department of Campus Security of USTB, together with the 2022 undergraduate students, carefully planned and organized the online special training activity of "The First Lesson of Freshmen Entrance Security" with substantial and informative content, covering three aspects: traffic safety, fire safety, and prevention of telecommunications fraud. The purpose of this lesson is to help freshmen establish safety consciousness, improve safety awareness, and enhance self-prevention ability, so as to welcome the new semester and start a new journey in a better state of mind. Nearly 3,000 freshmen participated in the training sessions.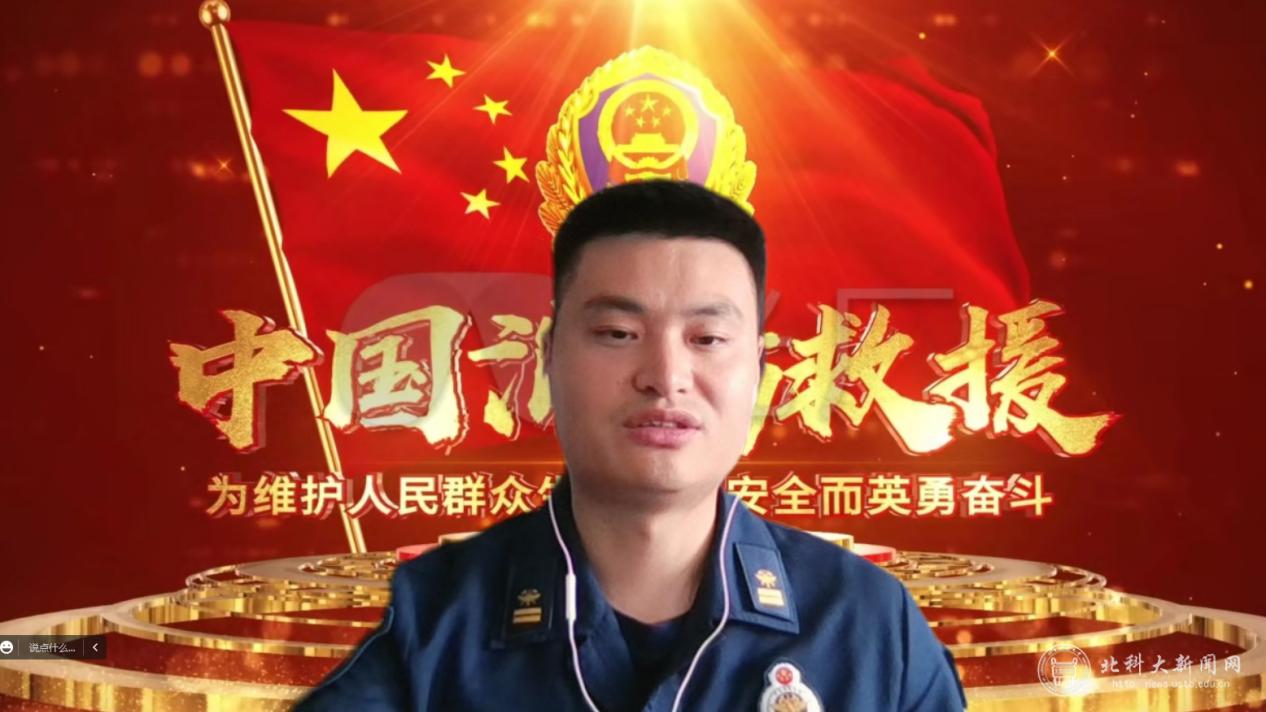 Officer XIONG Guitao delivered a lecture on fire safety knowledge
Officer XIONG Guitao, the Captain at the Bajia fire stations of Haidian District, Beijing, delivered a lecture on fire safety knowledge, aiming to enhance the fire safety awareness of teachers and students, improve their fire safety ability, and establish a sense of responsibility for fire safety. During the lecture, Officer XIONG introduced the classification of fire and the development process of indoor fire, reminding everyone to control the fire at the initial stage to prevent its further spread. Officer XIONG introduced three common methods of extinguishing the fire, which is extinguishing the fire by water, foam, or dry powder extinguishers. In addition, he also introduced various types of fire extinguishers and their application scope. Finally, Officer XIONG highlighted the precautions of the fire escape, which further improved the ability of the teachers and students who participated in the training session to respond to a sudden fire.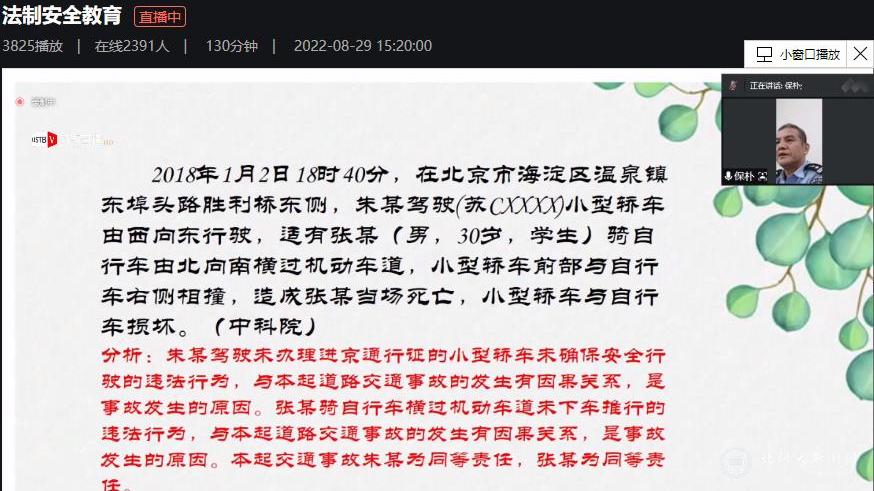 Officer LI Xibao delivered a lecture on traffic safety education
Officer LI Xibao, Director at the Department of Traffic Safety for Colleges and Universities in Haidian District, and Senior Sheriff (level-3) at Haidian Traffic Police Squad delivered a lecture on traffic safety education. With real and vivid examples, Officer LI analyzed various inducements that caused traffic accidents, proved the extreme importance of traffic safety through in-depth analysis of real cases, and warned teachers and students to keep traffic safety in mind, strictly obey the traffic rules, and enhance the sense of self-protection. In addition, Officer LI played the related video clips for the freshmen, so that they could intuitively feel the serious consequences caused by traffic accidents.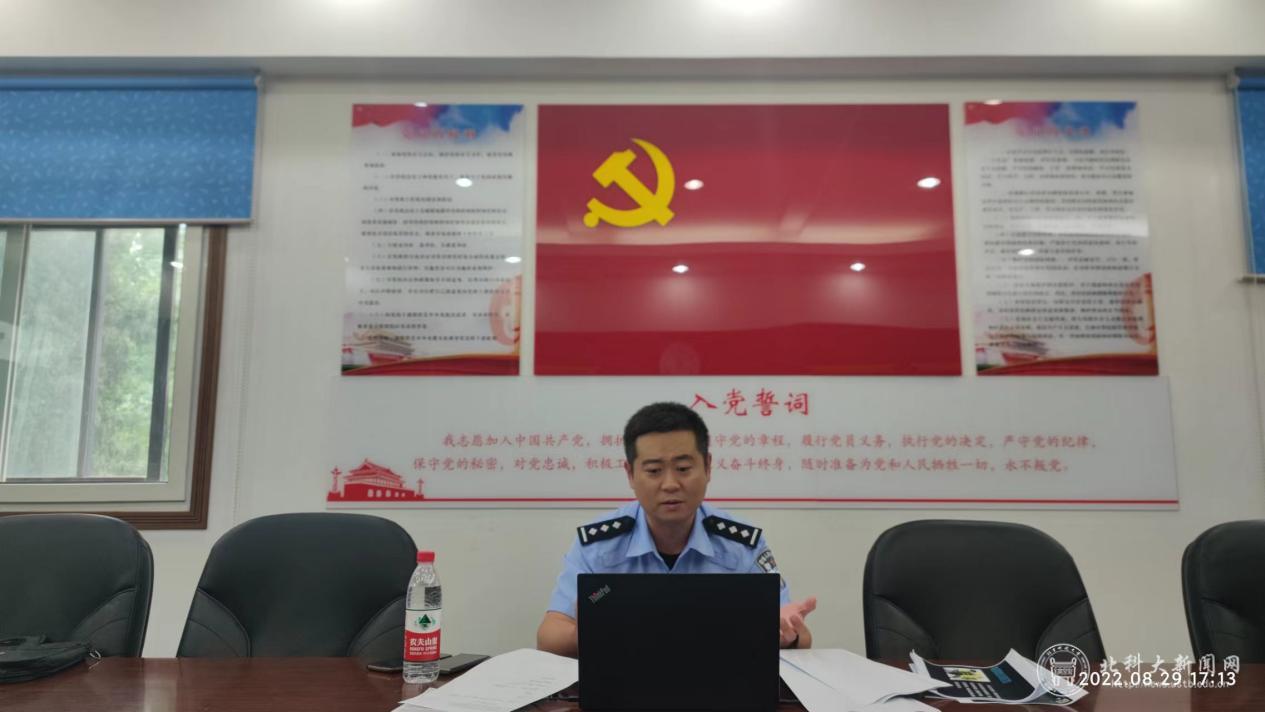 Officer TIAN Yuchao delivered a lecture titled "Anti-telecommunications Fraud"
Officer TIAN Yuchao, Police officer at Shuangquanbao Police Station, Haidian District, delivered a lecture titled "Anti-telecommunications Fraud". Starting from the real cases of our University, Officer TIAN cited 43 fraudulent cases among USTB students, including online naked chat, online gambling, click fraud, impersonating e-commerce logistics, and impersonation of government agencies, to exhort teachers and students to establish anti-fraud awareness, prevent from forwarding bank card number, ID number, mobile phone verification code, and other important information to others, build up the correct values, and prohibit theft, fight, drug abuse and other violations of discipline or law. Last but not least, Officer TIAN pointed out that "the Internet is not a legal blind spot". College students should observe disciplines and obey the law when surfing the Internet and not try to touch the bottom line of the law.
In the future, the Department of Campus Security will continue to implement a holistic approach to national security, carry out a series of lectures on safety education and various emergency drills, constantly strengthen the safety awareness of teachers and students, enhance their self-prevention ability, and improve the level of SafeCampus construction.
Draft: ZHANG Guolin
Revision: CHENG Mingyuan