The first undergraduate student admitted to USTB in Fall 2022 is Ms. CHEN Chen, a student from Beijing Jingyuan School.
On July 14th, the reporter of Beijing News learned from USTB that the university's first admission letter for 2022 undergraduates has been delivered to the freshman through two special "postmen": Prof. YANG Renshu, president of USTB, and Prof. QIN Jingyan, Chair of the Department of Industrial Design and undergraduate tutor of the admitted student.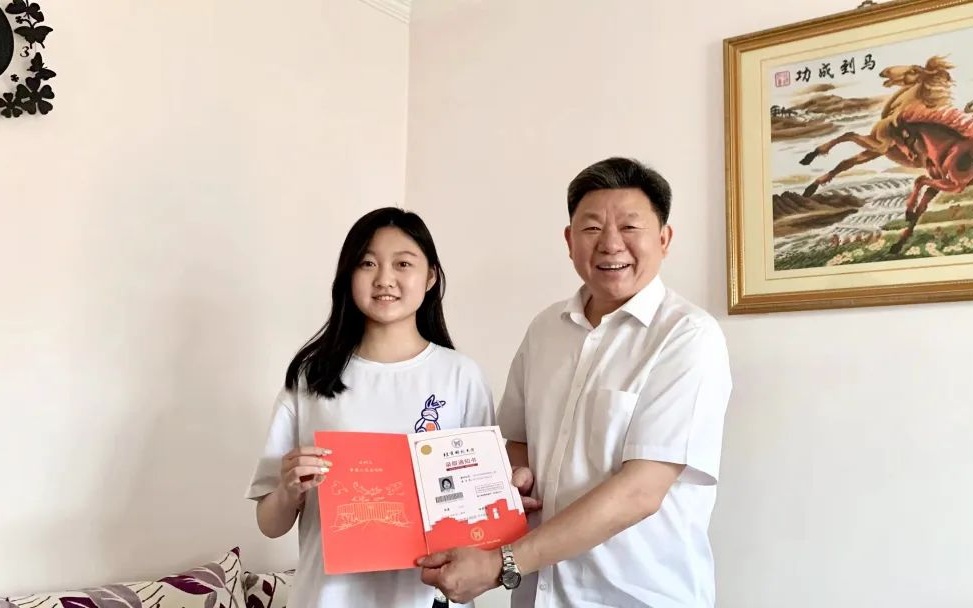 Prof. YANG Renshu, President of USTB, personally delivers the admission letter to the freshman.
Ms. CHEN Chen, a student from Beijing Jingyuan School, is the first undergraduate to be admitted to USTB in Fall 2022. She will study Visual Communication Design at the university's School of Mechanical Engineering, according to a news release from USTB.
President YANG Renshu congratulated the examinee and her parents and thanked them for choosing USTB. He introduced to the examinee and her parents the whole-course tutorial system of the university. After the freshmen are admitted, the university will provide whole-course tutors for the undergraduates. The tutors will carry out personalized guidance on the student's study, innovation ability, further study and employment, comprehensive quality, and other aspects. Prof. QIN Jingyan introduced the training program and employment direction of Visual Communication Design to Ms. CHEN Chen, and brought a gift package for the 70th anniversary of USTB.
The year 2022 marks the 70th anniversary of the founding of the USTB. The overall color of the notice is red. The envelope design selects the Main Building and Techart Plaza as the base image, which is summarized as a silhouette shape. In addition, there is a unique anti-counterfeiting sticker on the top left corner of each notice, and carefully prepared materials such as an admission guide and luggage tag are placed inside the notice. Examinees can check the progress of the logistics through the official website of EMS.
Source: The Beijing News
Translation: WU Yueheng
Revision: CHENG Mingyuan