As the Beijing 2022 Winter Olympic Games successfully concluded, USTB volunteers also completed their work of providing services and safeguards. A total of 401 teachers and students participated in 14 positions at Wukesong Sports Center, achieving over 30,000 working hours and serving for more than 20,000 athletes, officials, and spectators. They responded to President XI' s call on Olympic volunteers with practical action and became a responsible and obliging team with talents of aspiration and perseverance.
A group photo of all USTB volunteers for Beijing 2022 Winter Olympic Games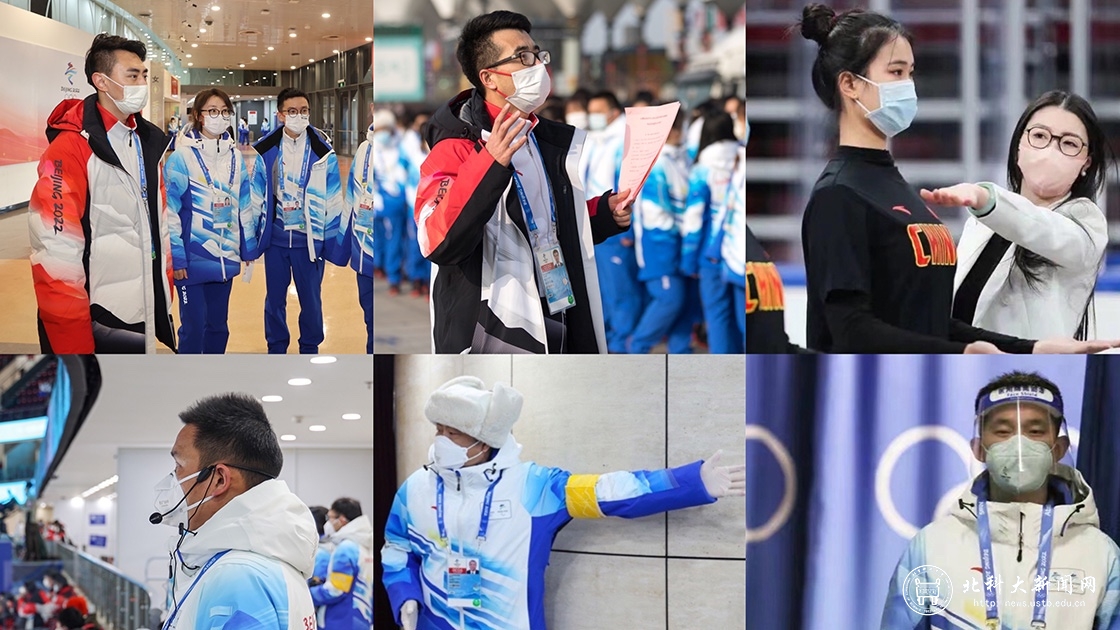 Volunteers of both Summer and Winter Olympics, of a veteran, and of a USTB teacher were at work.
All possible resources have been gathered to provide substantial support for USTB volunteers. Since the assumption of the volunteer task, USTB has established a "1+2+3" organizing structure, including one leading team, two specialized panels respectively on campus and in the hotel residence, and three working groups as in-loop, out-loop, and city volunteers, so as to secure an all-round requirement for living necessities, publicity, health, and counselling. There are four USTB teachers, LIANG Zhiyang, ZHAO Hongxuan, JING Xuhao and HUANG Jiayu, who stayed at the hotel residence and provided services wholeheartedly for volunteers inside the closed-loop. Besides, USTB has set up a Party branch and a Youth League branch to carry out activities and provide an all-embracing guarantee for volunteers' need in life and at work.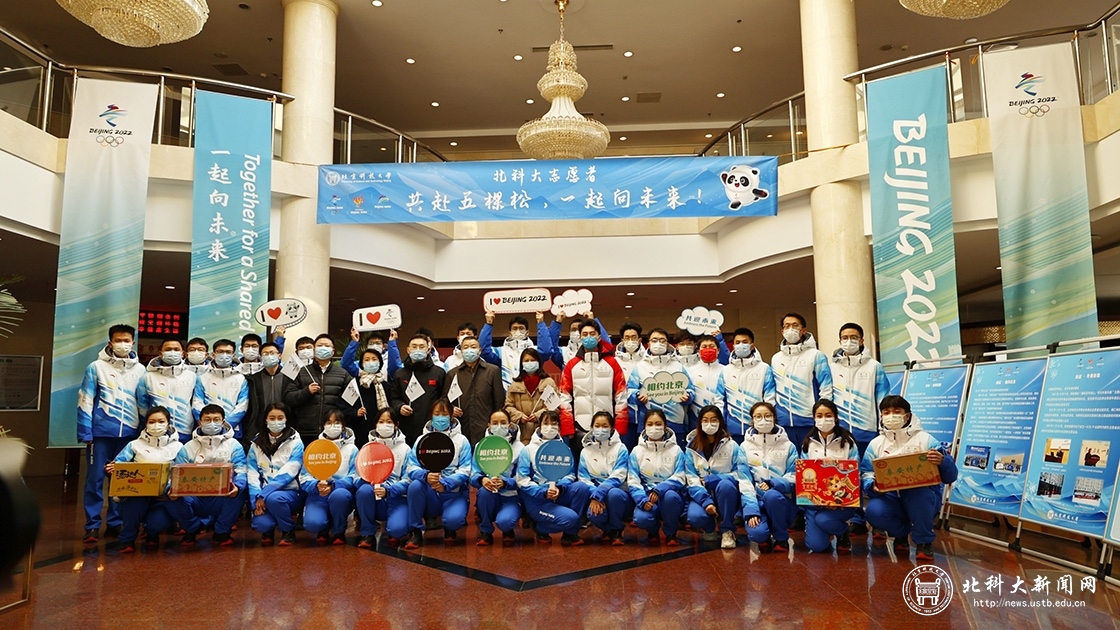 USTB Chancellor WU Guilong and Vice Chancellor YU Chengwen visited volunteers.
USTB President YANG Renshu and Vice President ZHENG Anyang visited city volunteers.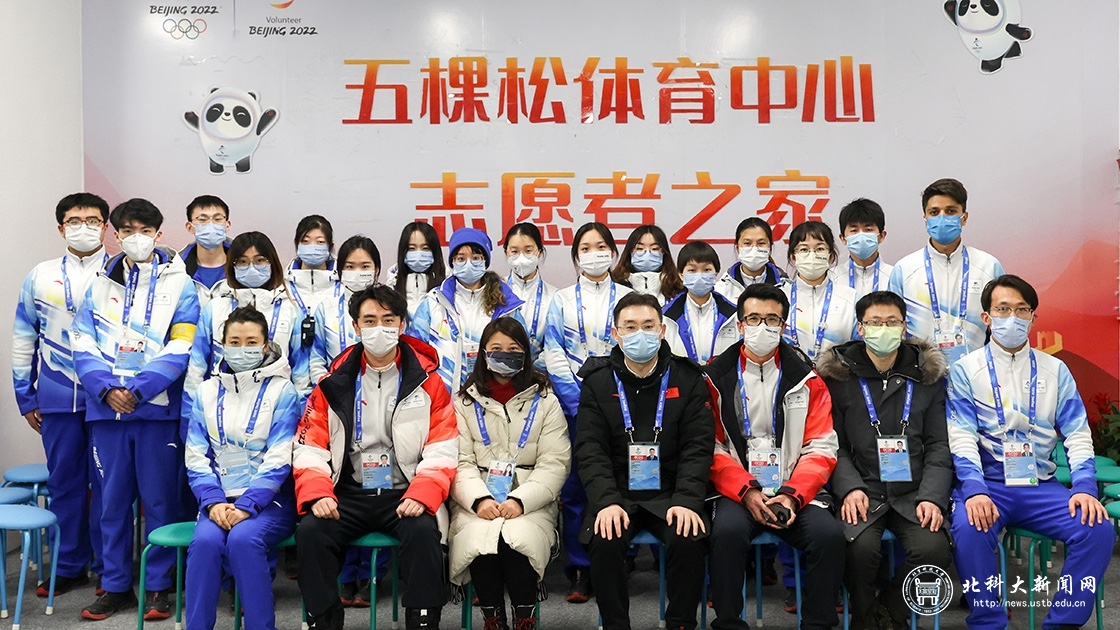 YU Chengwen, Vice Chancellor and WANG Li, Secretary General of the Communist Youth League Committee of USTB visited volunteers at Wukesong Sports Center.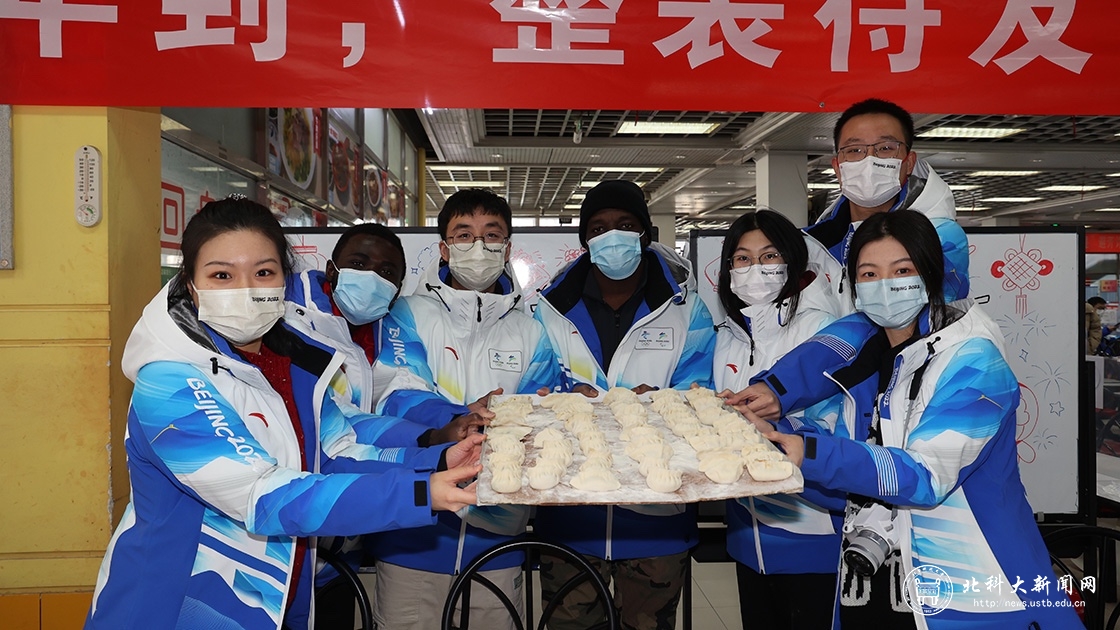 Volunteers were making dumplings in the school canteen to celebreate the Spring Festival.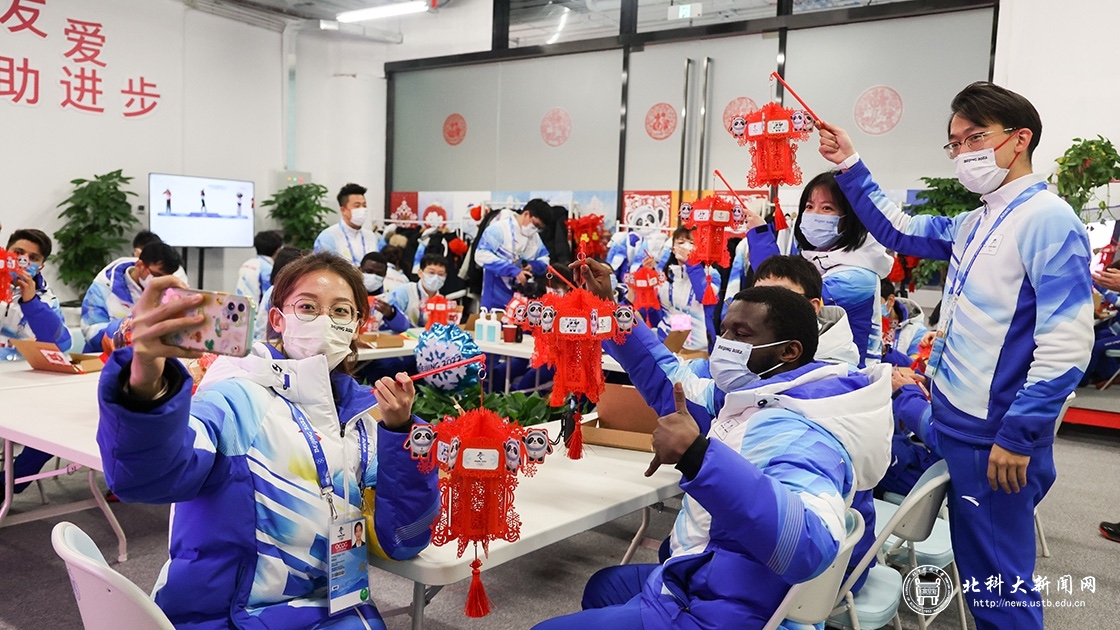 Chinese and foreign volunteers celebrated the Lantern Festival.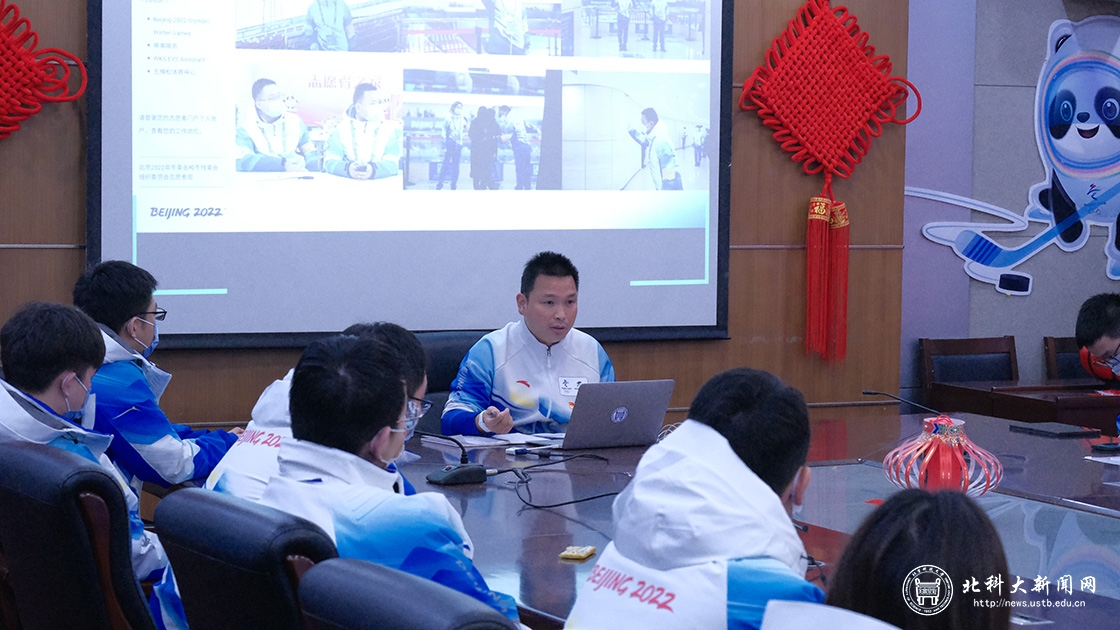 Party branch of USTB volunteers were carrying out themed activities.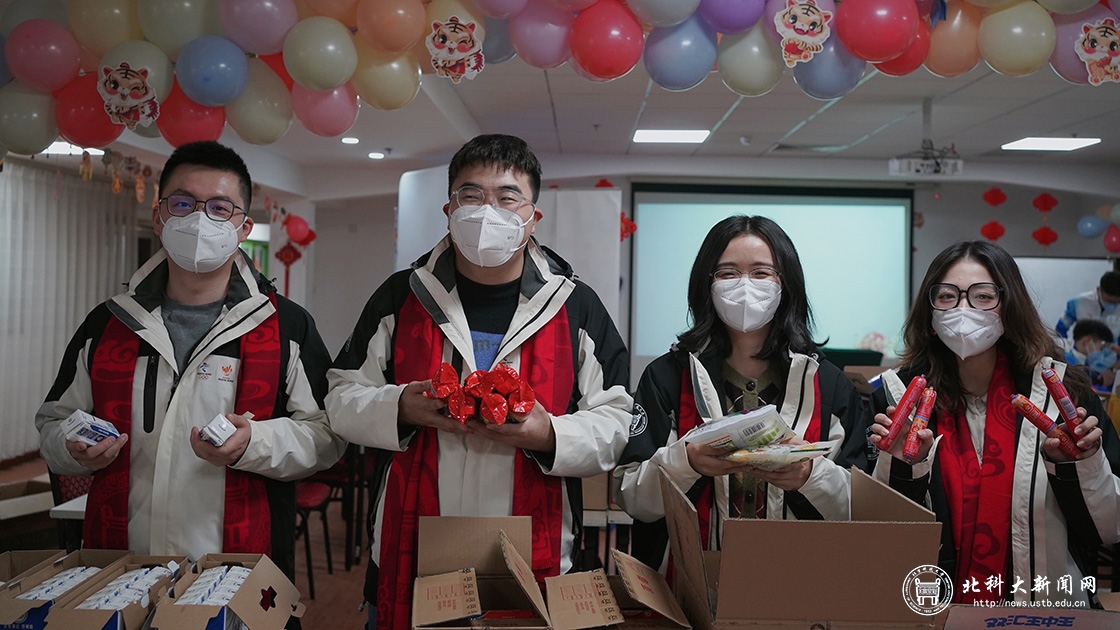 Four USTB teachers stayed at the hotel residence and provided services wholeheartedly for volunteers inside the closed-loop.
The youthful enthusiasm of USTB volunteers has been perfectly manifested. Amid the competitions, volunteers in blue who braved the freezing cold and stuck to their responsibilities, became the best business card for Beijing, the first city in the world to host both the Summer and Winter Olympic Games. On February 16th, the International Olympic Committee delegation conducted a detailed online and offline investigation into the preparing work of Event Services, the position that USTB volunteers were allocated to be mainly responsible for, and we made a detailed investigation of the service positions of the volunteers in our school. Their considerate and careful work was highly appreciated. On the evening of February 20th, USTB volunteers twice appeared on the screen in the closing ceremony, which allowed people around the world to witness the youthful enthusiasm of USTB volunteers.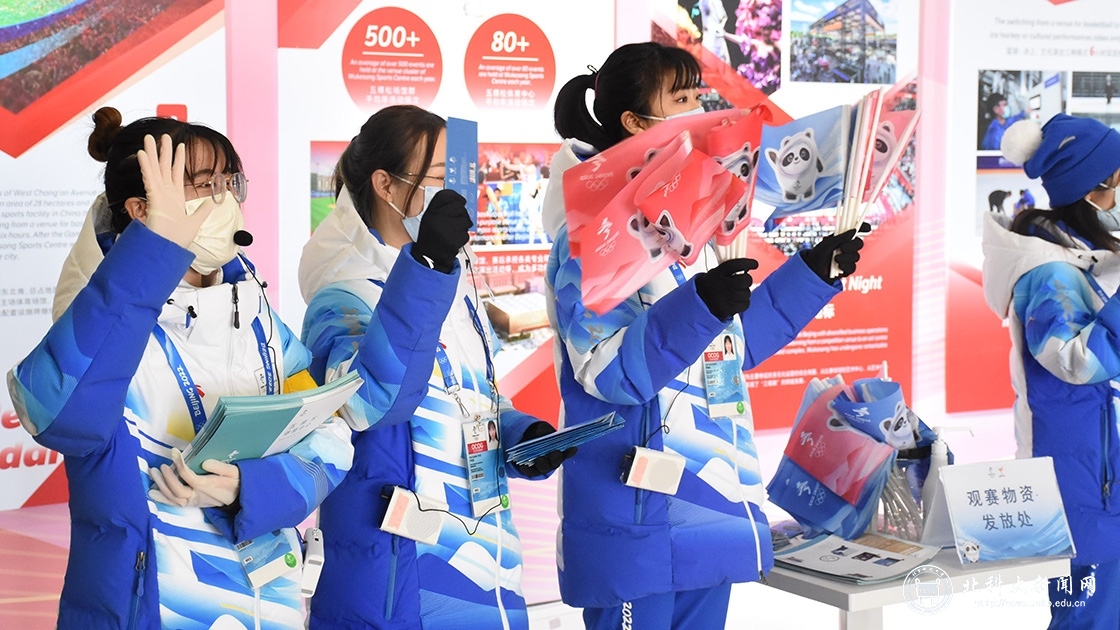 USTB volunteers were handing out supplies for spectators.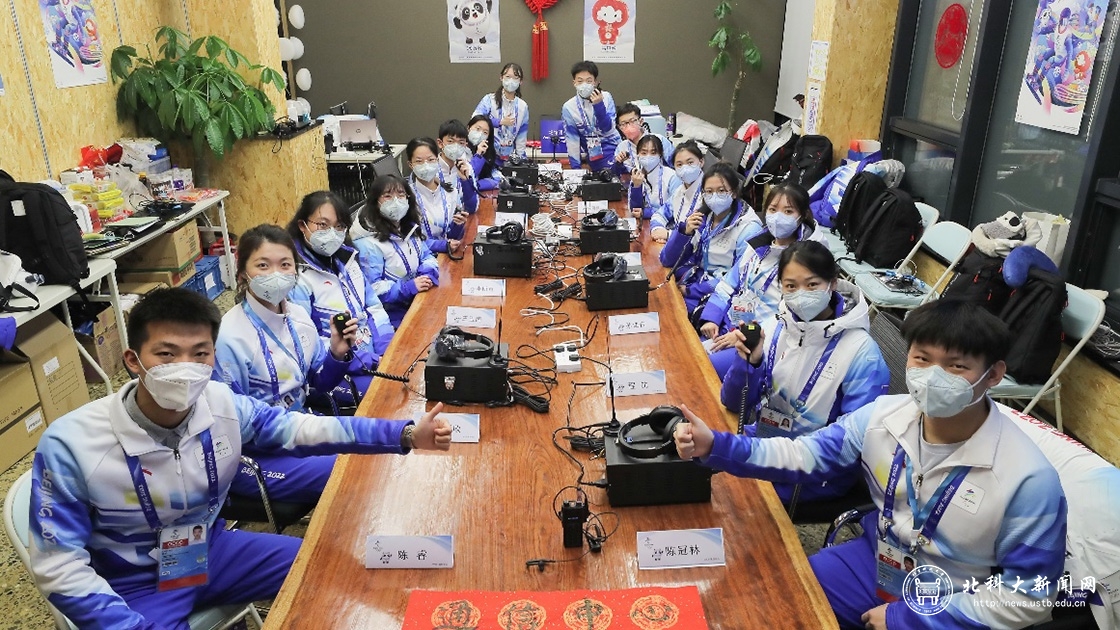 USTB volunteers were providing communication services.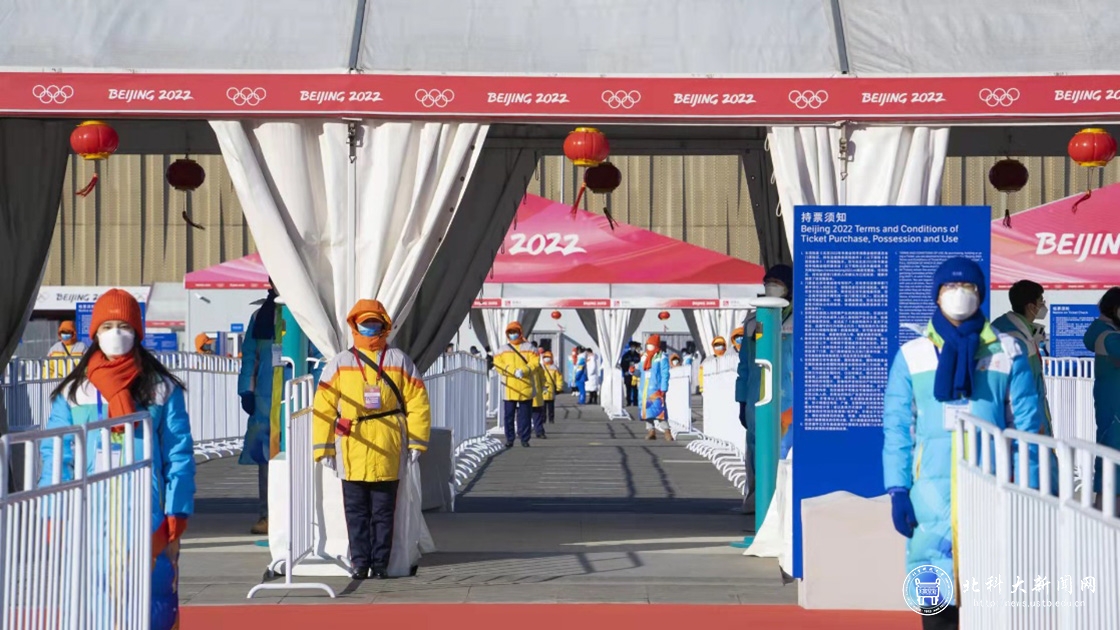 USTB city volunteers stuck to their responsibilities in freezing cold wind.
Comprehensive publicity has been made to engage all the faculty and students in online courses. USTB took the geographical advantage to carry out ideological education and publicity work, guiding volunteers to show patriotism and volunteer spirits. A specialized panel of publicity has been established, to shoot music videos for Olympic theme songs: Burning Snowflakes and Together for a Shared Future , and make a commemorative album, cartoons, vlogs, daily briefings, and articles on WeChat official account. These publicity works lit up the atmosphere during the Olympic Games with more than 600,000 Views and nearly 20,000 Likes. Extensive coverage of stories on USTB volunteers were made by People' s Daily, CCTV News, China Youth Daily, Beijing Daily and Beijing Youth Daily, and many other media.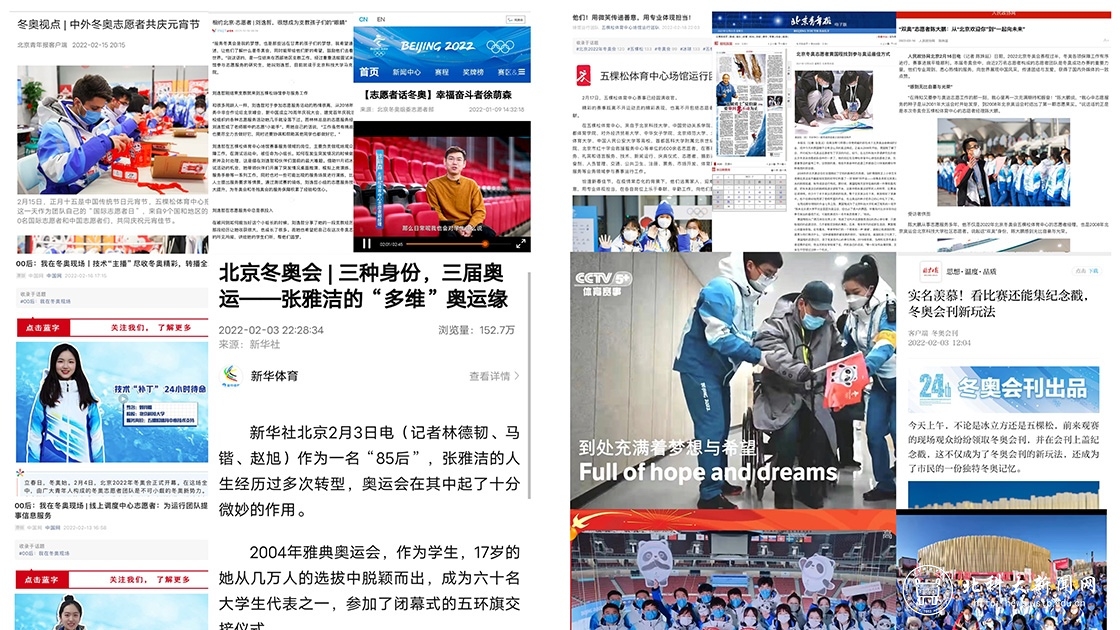 Many mainstream media made coverage on USTB volunteers during the Olympic Games.


Weekly briefings of USTB volunteers
Draft: XU Ruyi

Revision: CHENG Mingyuan