On the morning of May 26th, USTB organized a video conference on the proposals' collection of the master plan for the USTB Xiong'an Campus. The conference was attended by the relevant leaders and designers of the seven application units, including academicians Prof. WANG Jianguo, Prof. ZHUANG Weimin, and Prof. MEI Hongyuan; Mr. YIN Huiliang, President of the Xiong'an Branch of the China Academy of Urban Planning and Design, the head of the Beijing Science and Technology Park Auction Bidding Co; Mr. ZHENG Anyang, Vice President of USTB, General Director of the Xiongan Campus Construction Project Command (hereinafter referred to as "the Command"); Mr. MENG Zhaolei, Director of the Asset Management Office and Director of the Biding Center; Mr. FENG Jianming, Mr. GUO Zhiheng, Mr. QIU Anbing and other relevant leaders of the Command. The meeting was chaired by Mr. JIN Rendong, Deputy Commander of the Command.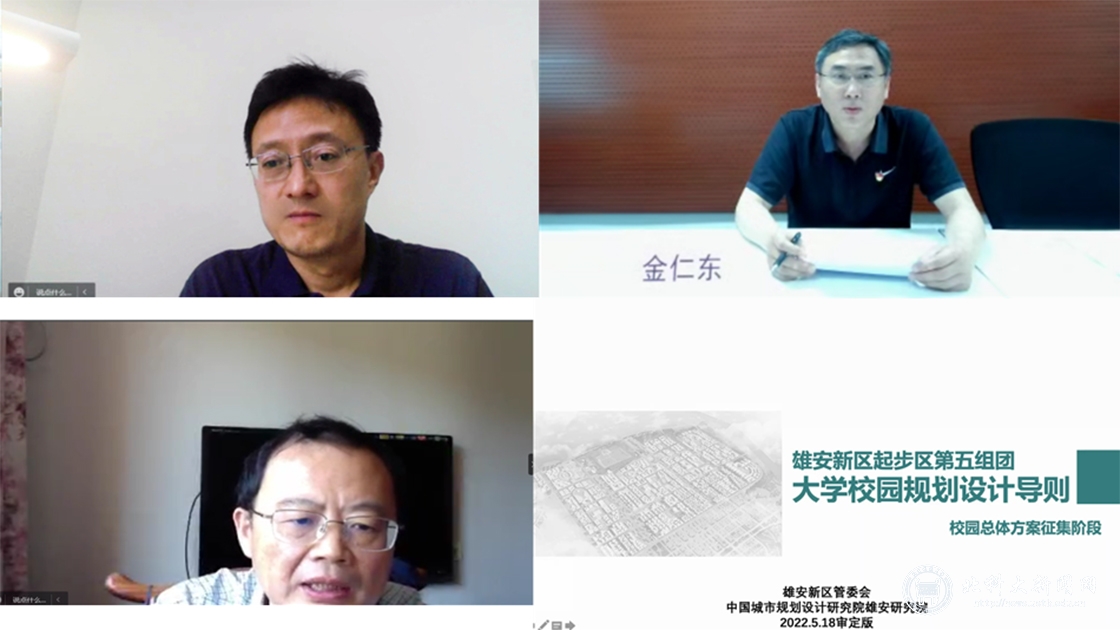 The online briefing
Vice President ZHENG Anyang delivered a speech on behalf of the Party Committee and the Administration of USTB. He briefly introduced the basic situation of USB and the background of the project construction. He also put forward three expectations to the responding units and designers: First, promote the planning and design of the Xiong'an Campus with a lofty sense of mission and responsibility; Second, use distinctive originality to create a design scheme that interprets the culture and spirit of USTB; Third, make it a masterpiece that represents the highest standard and wisdom of designers.
Mr. FENG Jianming, Chief Engineer of the Command, gave a detailed explanation of the project's design brief and exchanged views with the chief creators of the responding units on the core issues of the project planning and design. Mr. YIN Huiliang elaborated the new version of the planning and design guidelines for the fifth group of university campuses in the start-up area of Xiong'an New Area.
The collection activity of the proposal will be launched in mid-June for a staged presentation of the design situation, with the submission of the application documents by the end of July. The results of the proposals' collection will be announced one month after the proposal evaluation meeting.
Draft: HUANG Wenjing
Revision: CHENG Mingyuan