On the afternoon of June 2nd, USTB organized an online seminar for teaching-based exchange. Prof. WANG Luning, Vice President of USTB, attended and presided over the meeting. Prof. LIU Jemin, a member of the Standing Committee of the CPC Committee and Dean of the Graduate School, Prof. SONG Bo, Director of the Department of Academic Affairs, and approximately 900 teachers attended the meeting online.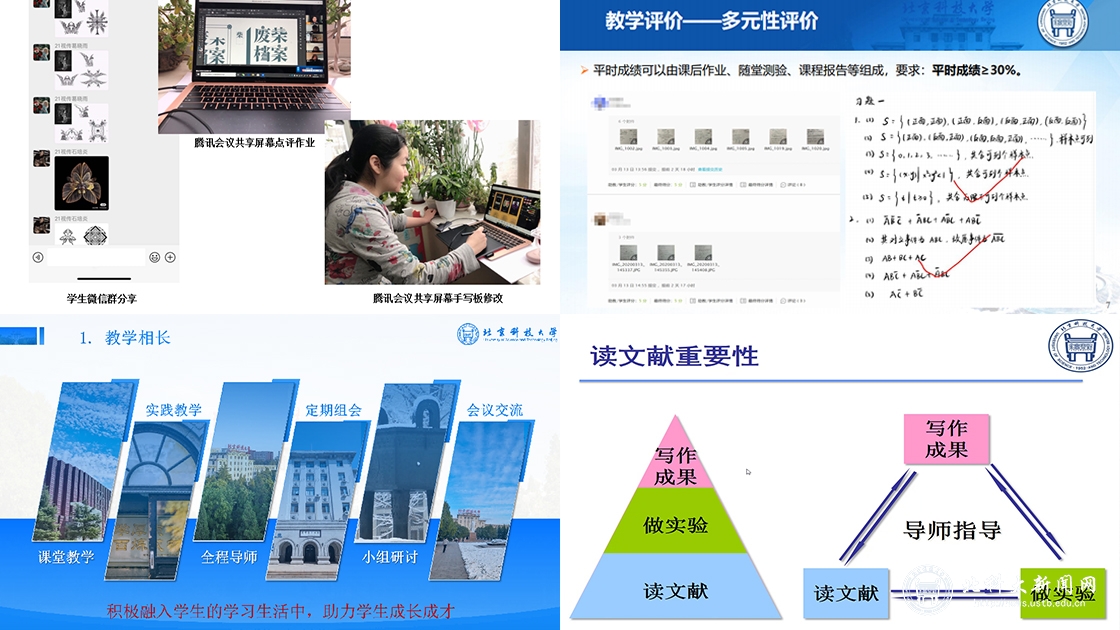 The Online Seminar for Teaching-based Exchange
Prof. LI Chun, a young teacher from the School of Mechanical Engineering and nominee for USTB role model of teacher ethics in 2020, first shared her experience of online teaching. She organized her class through a combination of "WeChat group + Rain Classroom + Tencent meeting". Before teaching online, she re-wrote the content of the PPT to make the course more concise, focused, logical, clear, structured, brief, beautiful, and standardized. As a result, it is easy to understand, recognize and remember, and adapt to the features of online communication. She also makes full use of online teaching information technology, with rising questions and replying answers at all times. Meanwhile, the integration of online and offline classes encourages students to study independently.
Prof. LI Na, a National May Day Labor Medal winner and Deputy Director of the Department of Academic Affairs, shared her working experience with online examinations. Prof. LI stressed that teaching evaluation is pluralistic and the end-of-course exam is not the only criterion to be used to evaluate students; the after-class assignments, accompanying tests and course reports are equally important. The end-of-course examinations should be fair, impartial, and objectively reflect the students' understanding degree of the course. In this regard, we have set up a massive question bank for the mathematics course exams to prepare students in advance for the online exams.
Prof. DONG Chaofang, a National Outstanding Youth Fund recipient and professor at the Department of Materials, shared her experience of how to better cultivate high-quality talents during the Covid-19 era. She pointed out that firstly, teaching and learning should both be implemented to ensure discipline development by going deep into the front line of the class. Regular vertical group meetings for close communication and online academic conferences should be held to expand students' ideas. Secondly, we should take advantage of our universities' resources, such as using the virtual simulation center to carry out undergraduate teaching and relying on our department's data center to develop mathematical modeling and help postgraduate research. Thirdly, we need to become students' research teachers and friends so as to share the hardships with students in scientific research and practical exercises; fourthly, we need to cultivate talents and develop materials and guide students to use their time to strengthen their studies in basic theories, to think and precipitate, so that they are capable to carry out scientific research efficiently in the future. It also explains the wisdom of "Success is no accident. It's hard work, perseverance, learning, studying, sacrifice and most of all, love of what you're doing or learning to do".
Prof. CHEN Jun, a National Outstanding Youth Fund recipient and professor at the School of Metallurgy, shared his experience in cultivating literature reading habits and scientific thinking among postgraduate students. During the period when students leave for home, postgraduates should be guided to read literature well and build a solid foundation for scientific research. He pointed out that the first thing is to develop the ability to think independently, so as to grasp the main contradiction behind the complicated phenomena and achieve the double effect with half the effort. In the material sciences, for example, innovation in research is dependent on new ideas, excellent performance, and in-depth investigation of mechanisms, and innovation in methodology and new systems are conducive to the exponential expansion of research. He said that cross-innovation is particularly important to research, as seemingly unrelated or even contradictory fields can often lead to unexpected discoveries, new phenomena, and directions. In addition, scientific research cannot be conducted without the guarantee of solid theoretical knowledge. Therefore, we need not only to consolidate the knowledge of basic disciplines such as physics and chemistry but also to master a wide range of advanced analytical techniques and methods.
During the meeting, Prof. SONG Bo and Prof. LIU Jemin expressed their gratitude to the teachers for sharing their experiences and briefed the recent arrangements and specific requirements of USTB undergraduate and postgraduate education and the teaching agenda.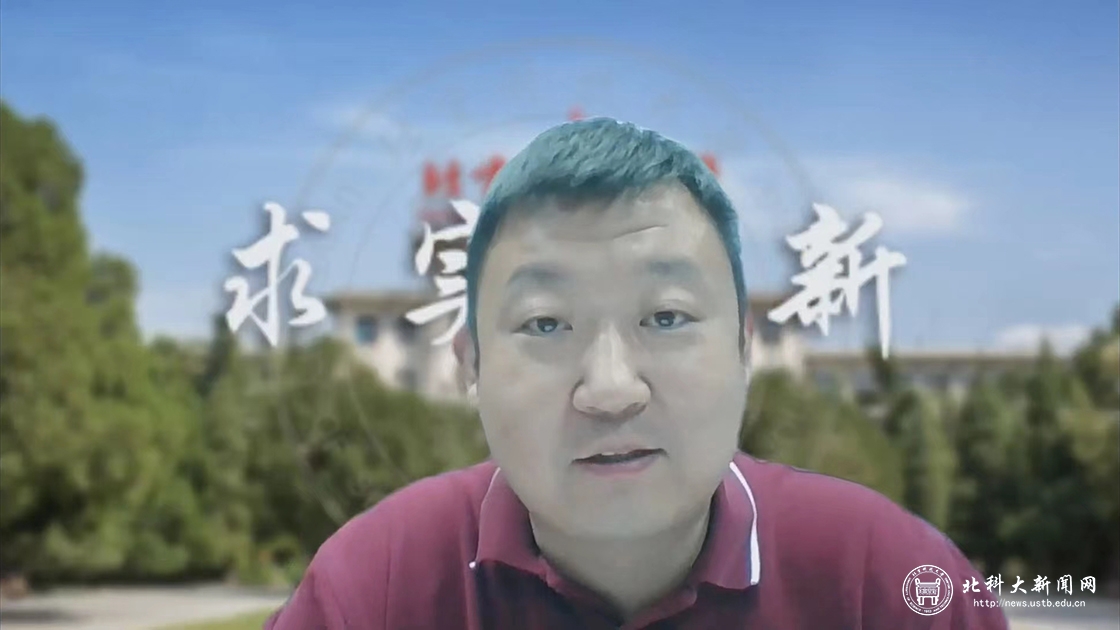 Vice President WANG Luning gave the concluding speech
To conclude the seminar, Prof. WANG Luning put forward requirements for improving education and teaching. Firstly, we should bear in mind the fundamental task of fostering virtue through education, and the quality of online teaching should always be maintained at a high standard. Second, we should carry out teacher-student interaction through multiple channels, and care for students should be in place. Thirdly, students should be fully encouraged to keep in mind with returning home but remaining at school and persist in their studies and research. Finally, he hoped that all teachers would take the spirit of President XI Jinping's important letter to senior professors as guidance, carry forward the spirit of rigorous learning and willingness to serve as a gardener, continue to strive for innovation and make new contributions to cultivating high-quality talents with both virtues and talents.
Draft: MA Qing
Revision: CHENG Mingyuan