Mr. JIANG Wei, Vice Chancellor of the China Iron and Steel Industry Association (CISA), and a delegation of 6 people visited USTB and held discussions on the construction of low-carbon R&D platforms and the development of low-carbon technologies. Prof. YANG Renshu, President of USTB; Prof. XUE Qingguo, Vice Chancellor and Vice President of USTB; and Prof. WU Aixiang, Vice President of USTB attended the meeting, the meeting was presided over by Prof. WU Aixiang.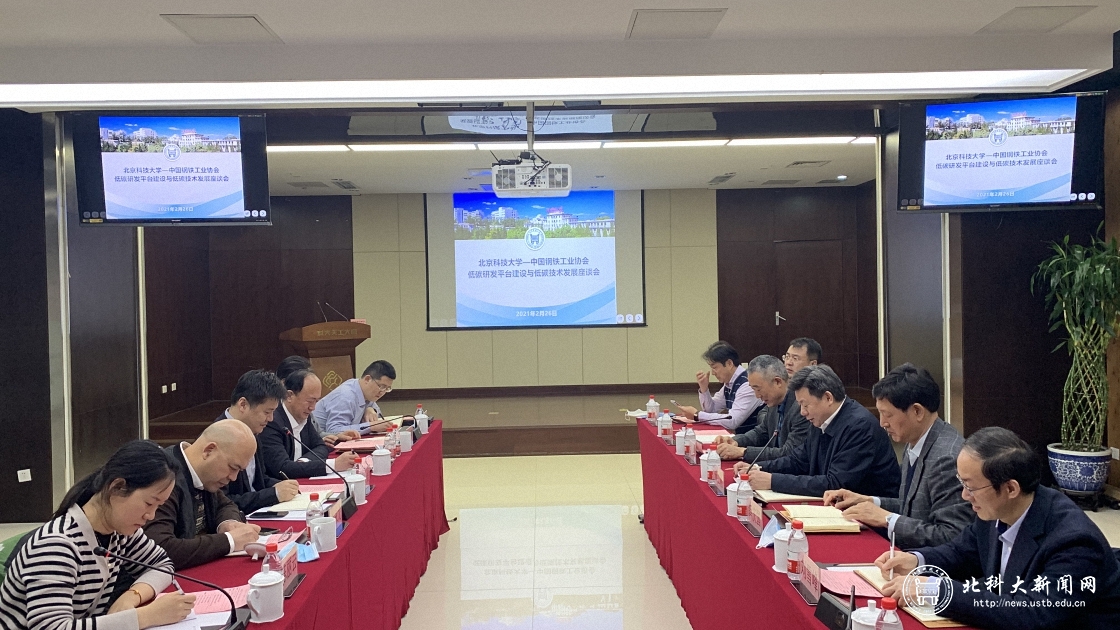 On behalf of USTB, Prof. YANG Renshu warmly welcomed to the leaders of CISA, said that green and low-carbon is the trend and the new mission of all USTB members in the new era. He emphasized that technological innovation is the key to low-carbon development. USTB has industry-specific research advantage and has the ability and confidence to overcome the urgent technical problems for the industry and enterprises, and produces a batch of green and low-carbon scientific and technological achievements with industry-specific characteristics to better serve the national economic and social development.
Mr. JIANG Wei thanked USTB for its support to the work of CISA, pointing out that USTB is the cradle of scientific and technological innovation in the iron and steel industry. In recent years, USTB has made remarkable achievements in strengthening school-enterprise cooperation, integrating production and education, and promoting technological progress and talent training in the industry.
Prof. XUE Qingguo said that low-carbonization and intelligent steel are two major issues in the steel industry. Among them, low-carbonization is the top priority for metallurgical workers. As a university with industry characteristics, USTB was born for iron and steel, it is duty-bound to make its due contribution to technological innovation and talent training.
Prof. WU Aixiang said that China, as the center of the world's iron and steel industry, can only rely on our own core technological innovation and breakthroughs, the industry must focus on key generic technologies to strengthen research. USTB will give full play to its technological and innovation-leding advantages, vigorously promote the technological transformation of scientific and technological achievements, and contribute to the development of the industry and the progress of the society.
Mr. HUANG Dao, Deputy Secretary General of CISA, pointed out that according to various data, time is tight and task is heavy for the iron and steel industry to achieve "carbon peak emissions". Efforts should be made to save energy in process structure, raw material structure and energy structure. At the same time, USTB is expected to make greater contributions in cross-border integration and collaborative disposal.