Recently, the Ministry of Education (MOE) announced a list of 100 typical cases of employment and entrepreneurship for university graduates nationwide. The work case "Promoting Effective Interaction of Enrollment and Employment and Improving the Quality of Talent Training" submitted by USTB was successfully selected.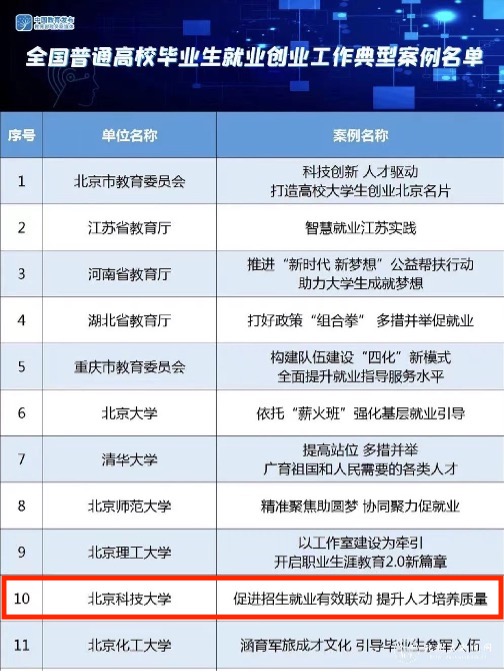 USTB is committed to implementing the fundamental task of fostering virtue throughout education in universities, starting from the overall situation of "ensuring employment", taking employment as a guidance, taking the three-aspect education as a cultivation path, and taking enrollment as the feedback. In this way, USTB focuses on improving the quality of talent training, achieving a coordinated process of enrollment, training, and employment, and gradually forming a linkage mechanism of "enrollment-training-employment" with characteristics of USTB. The typical work practice of "Promoting Effective Interaction of Enrollment and Employment and Improving the Quality of Talent Training" is exactly the accumulated experience and practice summary of enrollment and employment of our school.
Over the years, USTB leaders have always attached great importance to student employment. The front-line command of school leaders and the Admissions and Employment Office have coordinated and worked hard. All schools strictly implement the "One Policy for One Student" policy. All employees have realized the on-demand assistance in the whole process of student training, participated together and provided precise service and guidance throughout the process, and built a cooperative mechanism of three-aspect education in the work of employment.
USTB continues to rely on a complete and comprehensive employment research system to produce various annual employment analysis reports, regularly interpret the enrollment and employment status, and form a targeted and fixed-point analysis for the enrollment and training departments, and use market changes to trigger the linkage of enrollment and training reforms, and provide data support and feedback for optimization of professional training programs.
At the same time, USTB actively promotes the joint regulation and control of enrollment and employment. Reduce part of the enrollment plan according to employment status and professional application rate; according to recent national strategic priorities, add high-recruitment majors that are urgently needed in many industries such as robotics, artificial intelligence, and energy storage; according to regional development layout and social needs, make reasonable provincial and professional enrollment plan. USTB continuously optimizes the professional setting through integration of employment situation of subjects, students' career development intention, and school planning.
Draft: Kaidi Huang
Revision: Mingyuan Cheng