USTB and the Education Loan Fund (ELF) under the Ministry of Education and Science (MEDS) of Mongolia held the signing ceremony of the Memorandum of Cooperation on international talent training on August 16th, in order to implement the educational idea of "characteristic, best-quality, and internationalization", broaden the international cooperation and exchange network, carry out international talent cultivation in-depth, and enhance the influence of international education.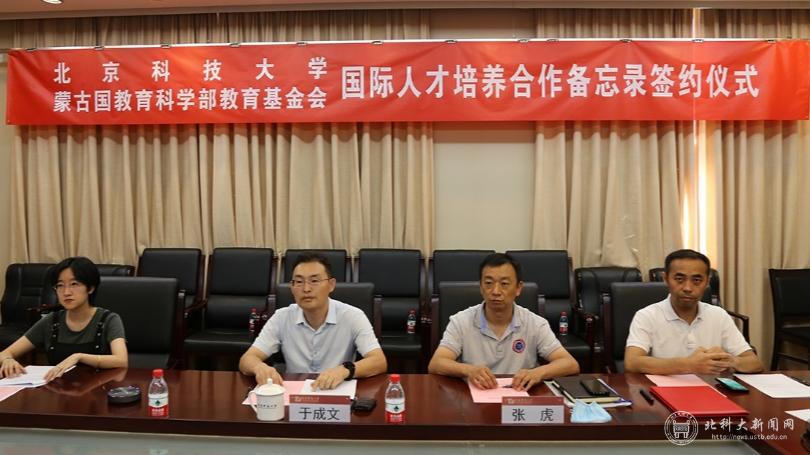 The signning ceremony
Mr. Gardi Delger, director of Education Loan Fund, Prof. YU Chengwen, Vice Chancellor of USTB, Prof. ZHAO Baoyong, director of USTB International Student Center, Mr. LI Baoming, and Mr. ZHANG Hu, deputy directors of USTB International Student Center, and Mr. Tsendsuren Saruulbileg, alumni representative of Mongolian international students, attended the ceremony. Prof. ZHAO Baoyong presided over the signing ceremony.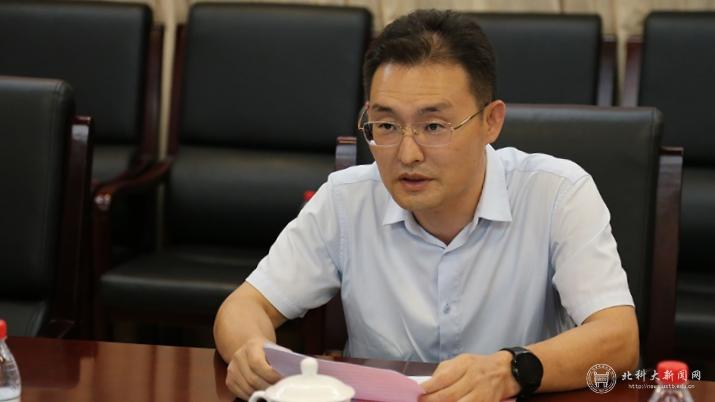 Prof. YU Chengwen speaking
On behalf of USTB, Prof. YU Chengwen welcomed the director of the Education Loan Fund who attended the signing ceremony. He also introduced the development history, educational thinking, internationalization level, and the achievements and development direction of the education in China of USTB. Prof. YU pointed out that the cooperation between China and Mongolia in the fields of education and science has been steadily deepened with increasing frequency of academic discussion, personnel training, and scientific and technological cooperation. The university has established sound cooperative relations with Mongolian institutions of higher learning and has played an important role in the development of friendly relations between the two countries. Prof. YU pointed out that international talent training cooperation will become an important measure of the university to promote the internationalization of education in the new era. USTB will cultivate more top-notch international talents based on the distinctive and advantageous disciplines and first-class teaching staff, and make more contributions to the construction of the Belt & Road Initiative.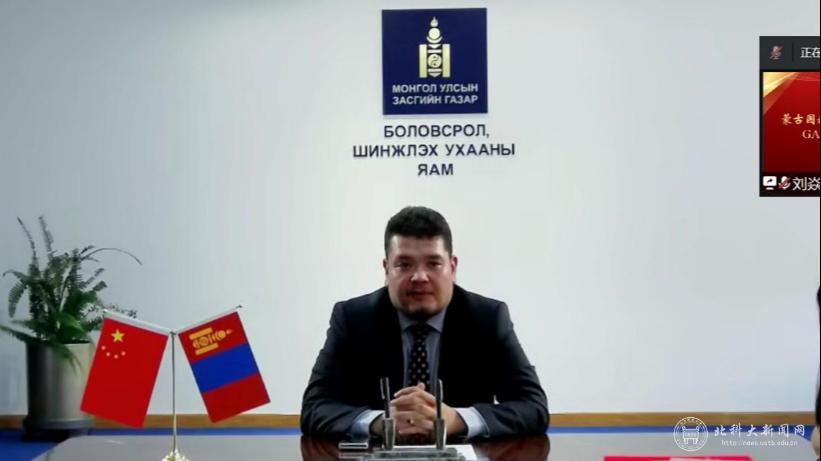 Mr. Gardi Delger speaking
Mr. Gardi Delger introduced the work of ELF in supporting Mongolian students since its establishment in 1993 and said that Mongolia is pleased to cooperate with USTB in international talent cultivation. He pointed out that deepening cooperation is bound to unite the two peoples and promote the development of both sides.
The online signing ceremony
After the close exchanges between the two sides on the content of cooperation in international talent cultivation, Prof. YU Chengwen and Mr. Gardi Delger signed a memorandum of cooperation on behalf of USTB and ELF respectively.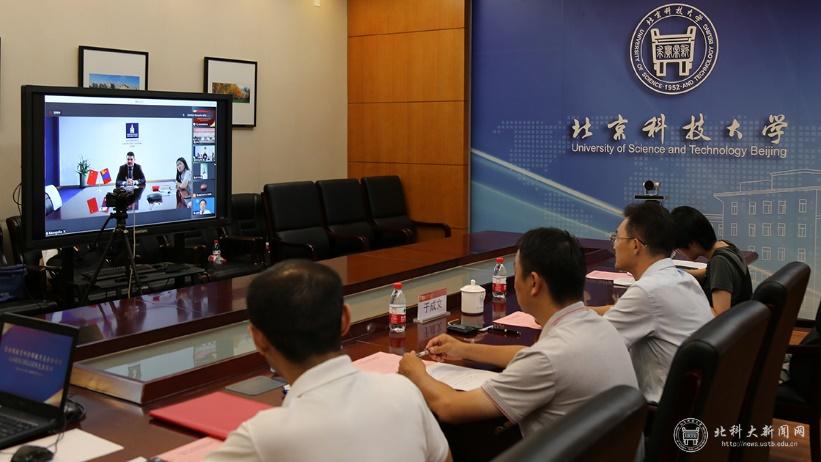 In the future, USTB will work with the Education Loan Fund of the MEDS to build a model of international talent cultivation, adhere to the coordinated development of scale, quality, connotation and norms, cultivate international talents with solid professional quality and international competition and cooperation ability, and actively serve China's diplomacy. It has also contributed to promoting friendly relations between China and Mongolia and promoting the building of a community of shared future for mankind.
Draft: WU Yueheng
Revision: CHENG Mingyuan & LIU Yan