On March 8th, Prof. YANG Renshu, President of USTB, was invited to attend the 7th Tan Chin Tuan Foundation (TCTF) – Nanyang Technological University (NTU) Advanced Leadership Development Forum online, shared ideas on subjects under discussion related to the opportunities and challenges of innovation-driven development strategy and talent cultivation in the post-epidemic era.
The forum was sponsored by NTU Nanyang Centre for Public Administration, senior representatives of the relevant government authorities, higher education and scientific research institutions, and transnational corporations of both China and Singapore attended the forum, aiming at strengthening the cooperation between NTU and government agencies, colleges and universities, and corporations in China, promoting the communication and collaboration of international exchange and industry-university-research.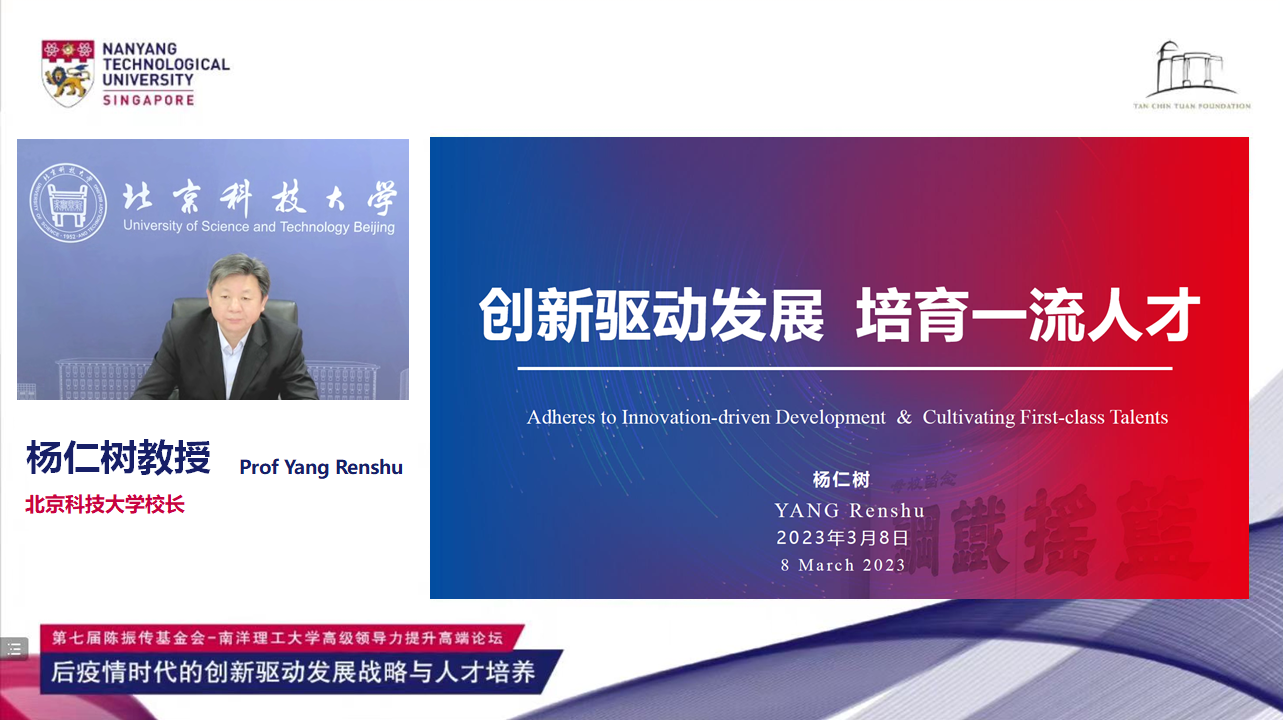 Prof. YANG Renshu expressed his warm congratulations on the successful holding of the forum and gave a themed report titled "Innovation Drives Development, Cultivate Top Talents," introduced the developments of USTB and the consideration and particular methods of innovation-driven development and personnel training in the post-epidemic era. He pointed out that USTB adheres to the spirit of President XI Jinping's important reply letters as guidance and coordinates the six elements of running the university, including discipline, scholar, student, campus, etc., as the starting point to further promote the development of USTB to a new level. Prof. YANG Renshu said that USTB will continue to accelerate the exploration and research of high-quality development of higher education, strengthen the cooperation with NTU, strive to promote the construction and development of world-class universities, and jointly paint a brighter future for higher education.
Draft: GUO Shutong
Revision: CHENG Mingyuan