On January 16th, the USTB-DMU Confucius Institute (CI) held a joint celebration with both institutions at De Montfort University (DMU) of the 2023 Chinese New Year. DMU Prof. Katie Normington, Vice-Chancellor of DMU, Prof. YANG Renshu, President of USTB, Prof. Simon Bradbury, Pro Vice-Chancellor of DMU, and Prof. LV Zhaoping, Vice President of USTB, graced the event with speeches.
Online meeting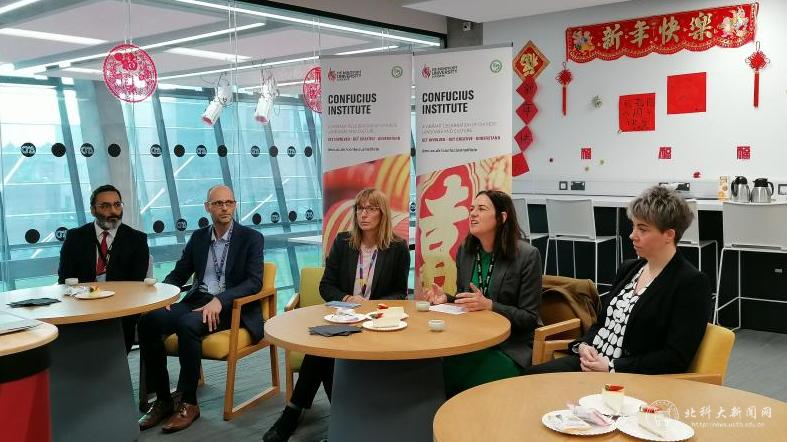 VC Katie Normington gave a speech
In her speech, Prof. Katie Normington extended a warm welcome to USTB colleagues and thanks to all and wished everyone a Happy Chinese New Year. She said that in 2022 the two universities had overcome difficulties with mutual support to ensure smooth running at both ends. She commended the CI for its contribution to the cultural diversity of DMU. She also expressed her hope of in-person visits between the two universities in the Year of the Rabbit, a year of contemplation and reflection.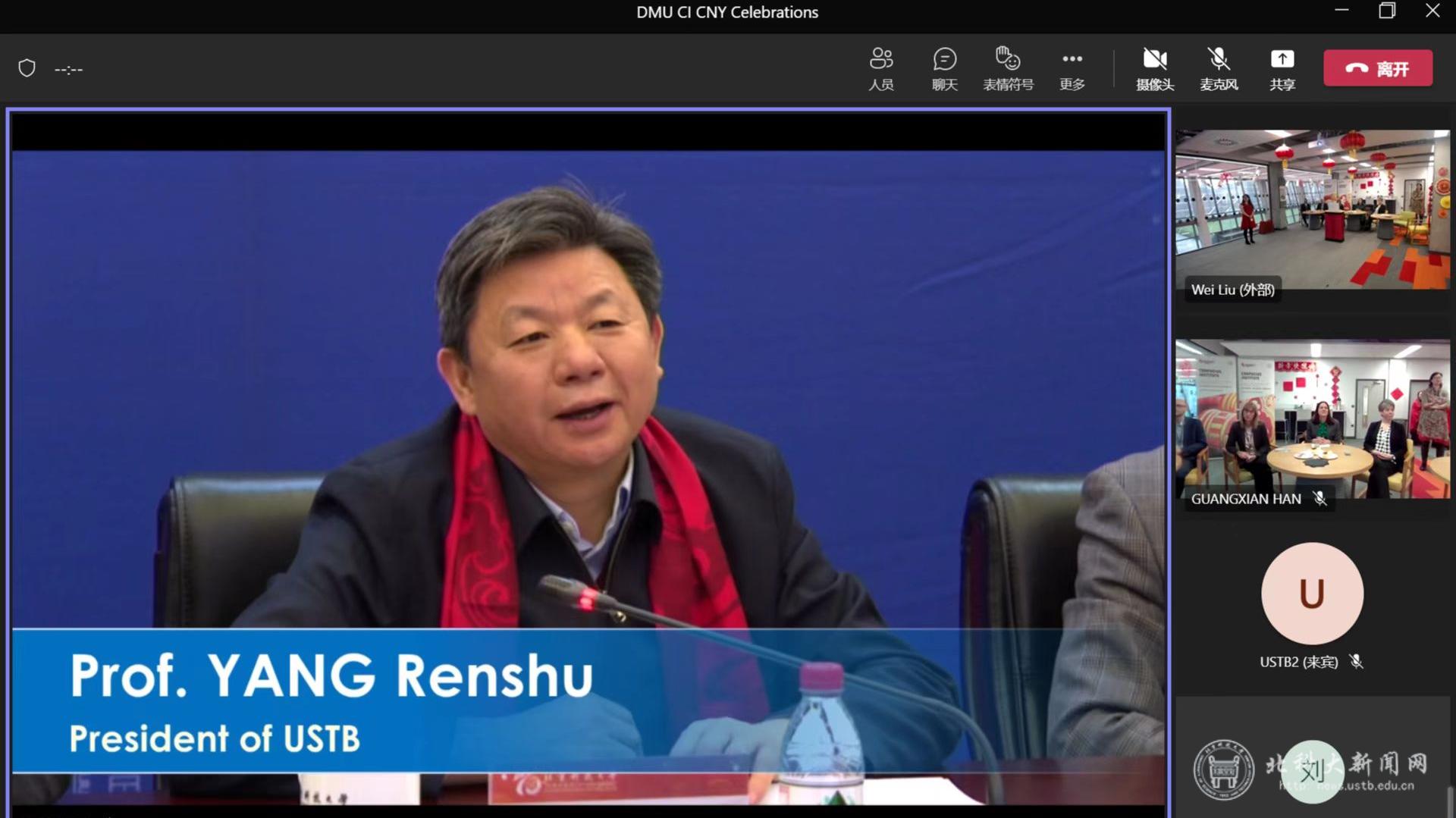 Prof. YANG Renshu gave a speech
Prof. YANG Renshu conveyed New Year greetings and best wishes to the staff and students of DMU. As a response to VC Normington, he hoped to see more mutual visits and closer cooperation for the healthy and long-term development of both universities. He congratulated the CI on its striking achievements in Chinese language teaching and cultural activities, which are indispensable in promoting people-to-people exchanges and mutual learning among civilizations for more mutual understanding and long-term traditional friendship. That would ensure a new chapter with more benefits for USTB and DMU.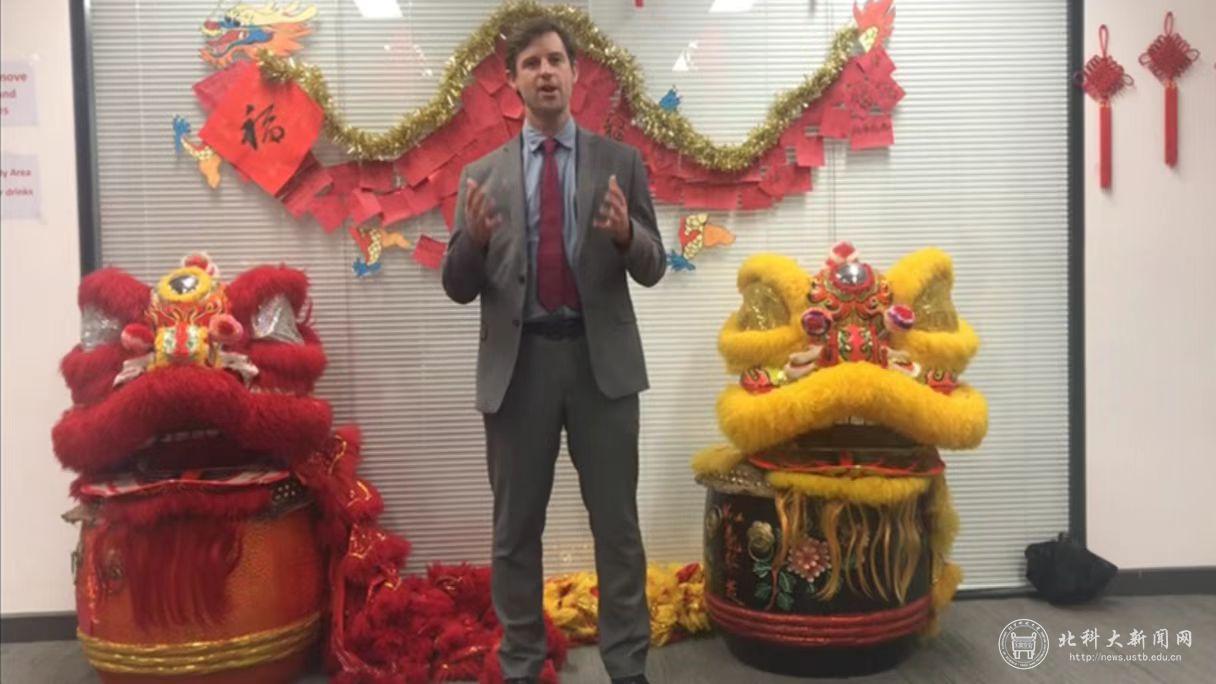 Speech by PVC Simon Bradbury
In his pre-videoed speech at the CI, Prof. Simon Bradbury conveyed his best wishes to everyone for the Chinese New Year of the Rabbit, "a spectacular year ahead." He said that the two universities worked hard to overcome many challenges in the last year, now with a great future to look forward to.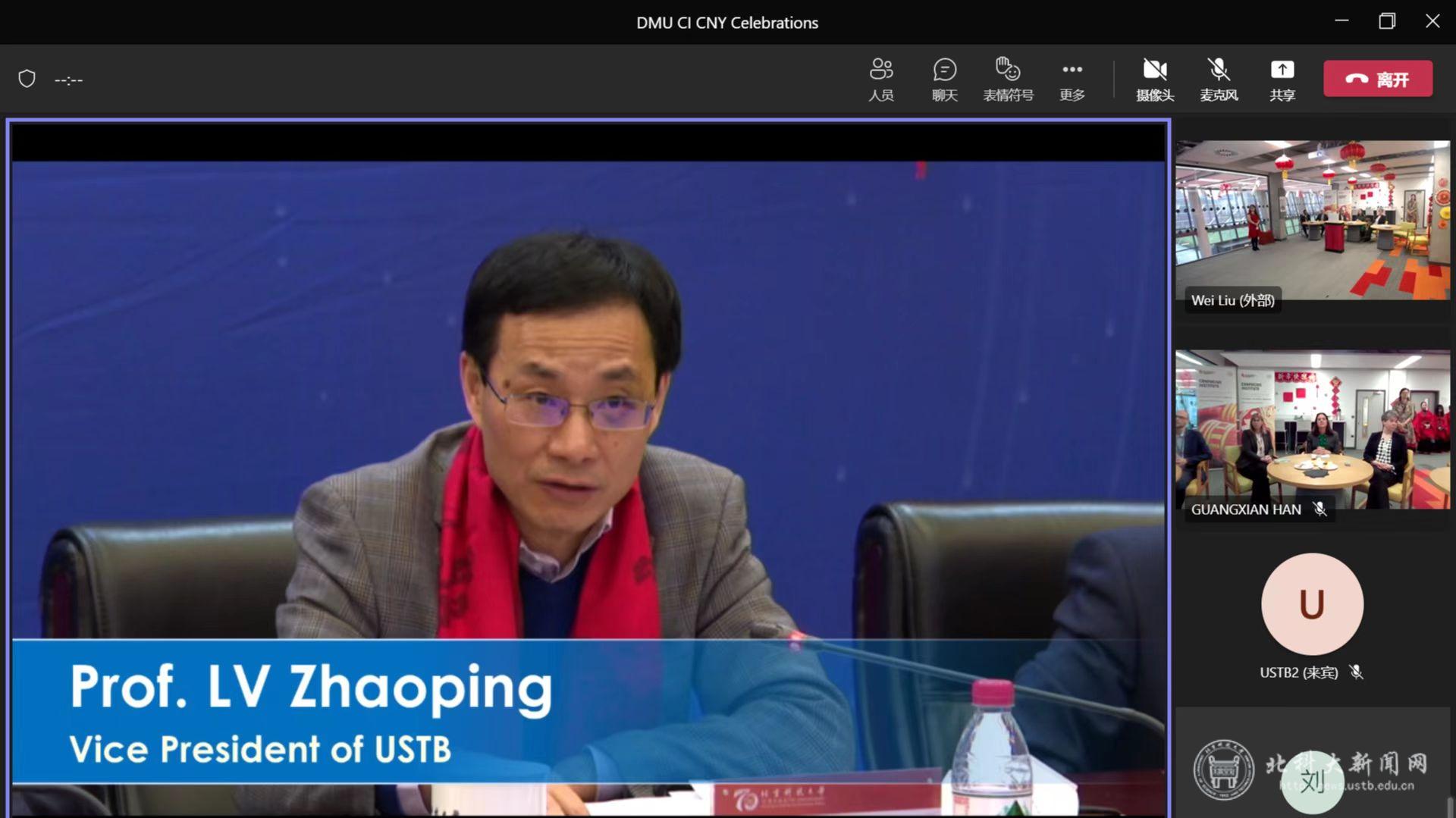 Speech by Prof. LV Zhaoping
Prof. LV Zhaoping expressed his gratitude to all who have supported the CI, an important bridge for Sino-British cultural exchanges. He said that the CI is also an open window for friendly exchanges between the two universities as well as the two countries.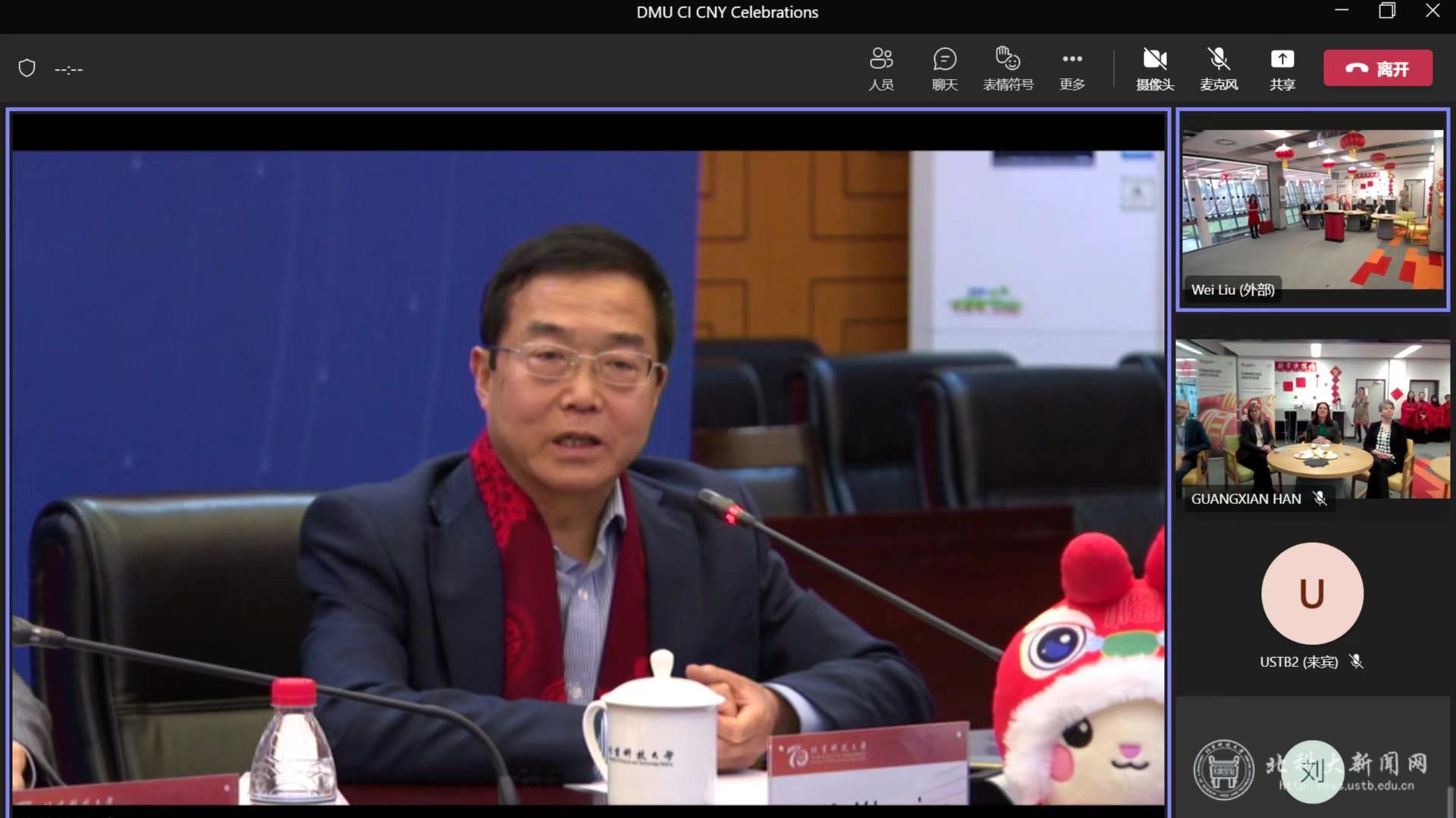 Speech by Dr. YANG Yingjun
Dr. YANG Yingjun concluded with the best Chinese New Year wishes to all and thanked both universities for their trust and support, which has made his four years at the CI so rewarding.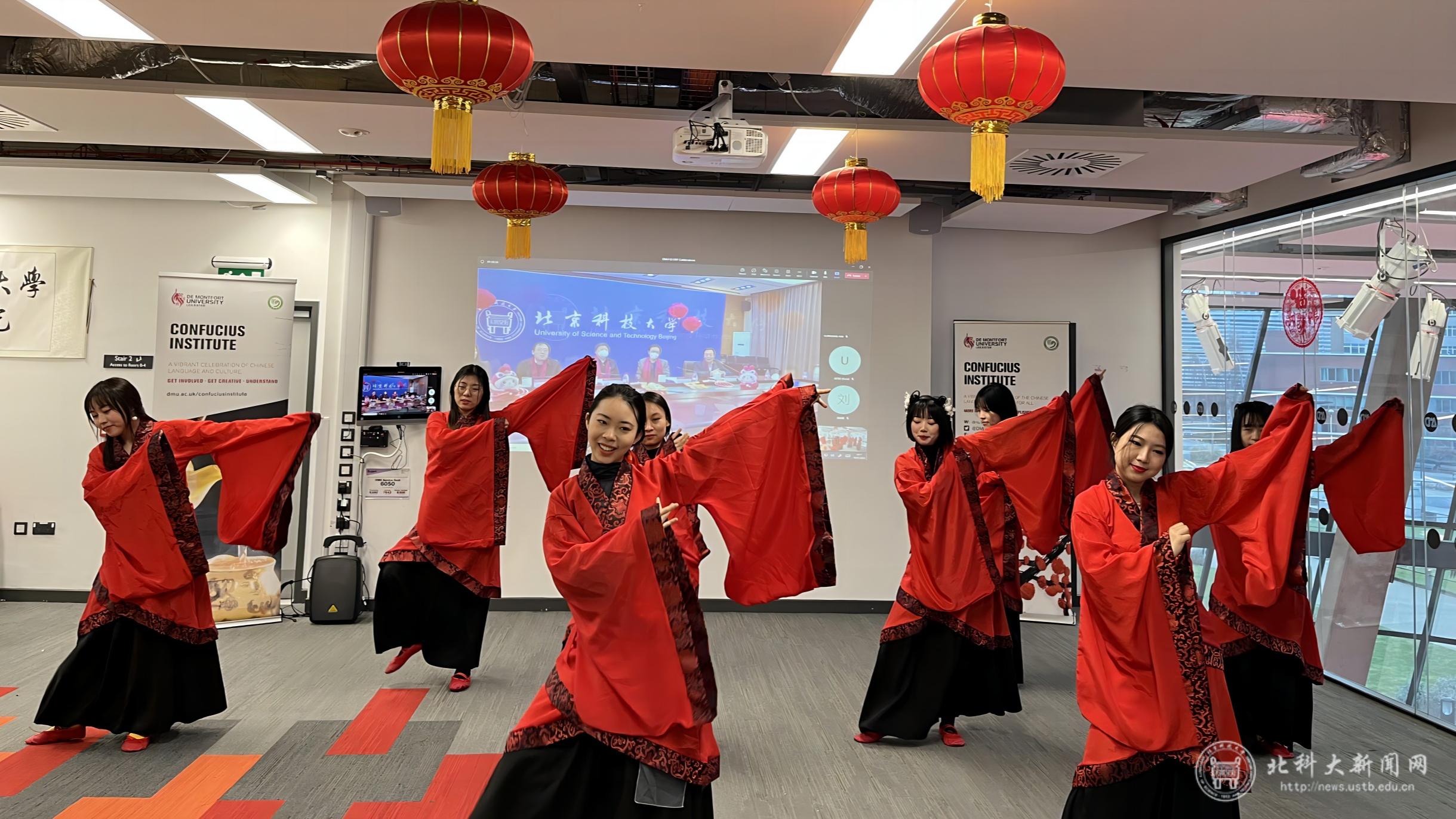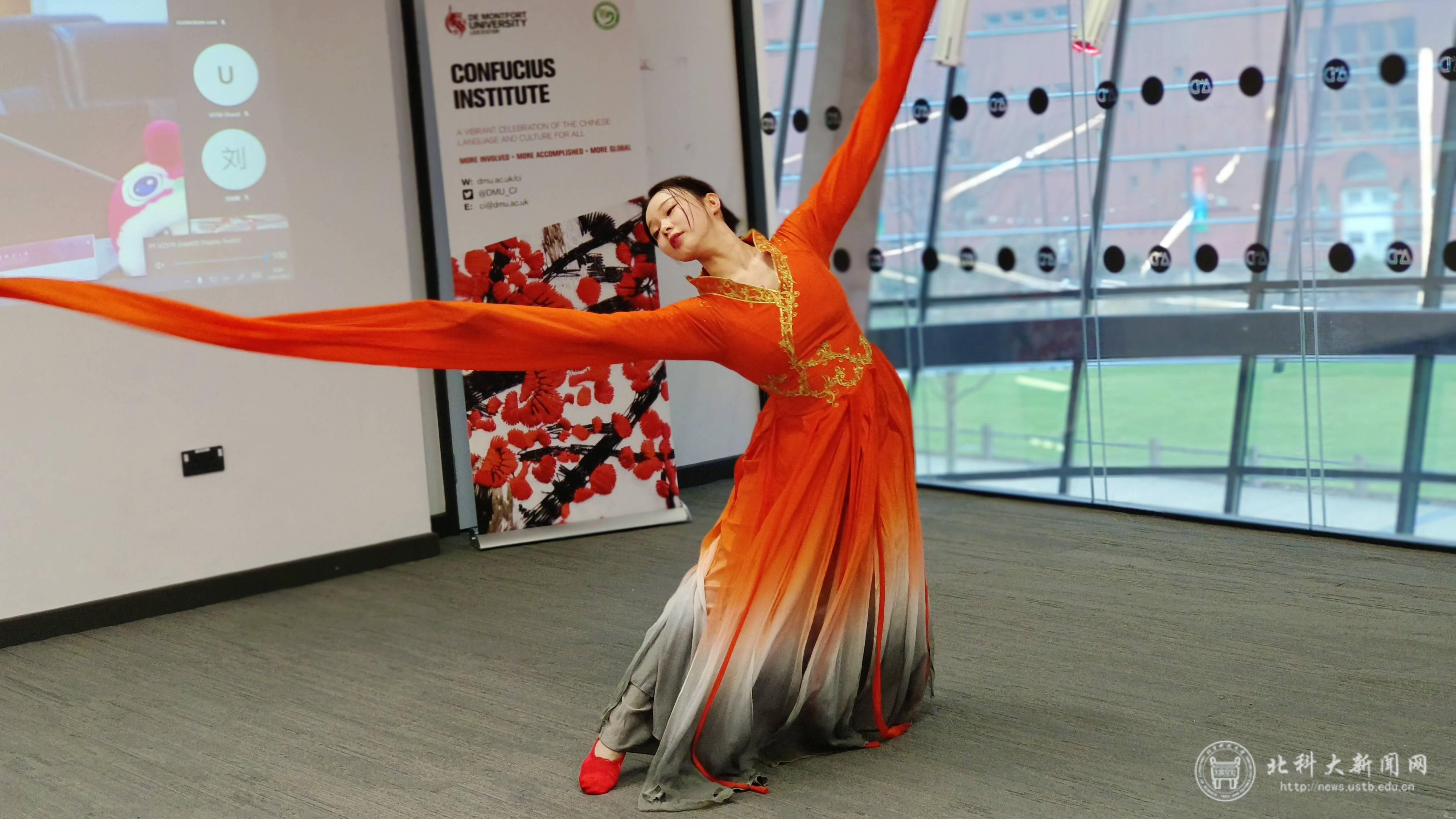 Live performances
The brief speeches were followed by festive performances. Traditional Chinese instruments such as guzheng (zither) and hulusi (cucurbit bamboo flute) demonstrated the brilliance and charm of Chinese folk music. Group dance in costumes of the Han dynasty (State of Etiquette), solo dance, folk dance, and Baduanjin (traditional fitness exercises) were so engaging that they won applause and participation.
The joint Chinese New Year celebration has enhanced the festive atmosphere of happiness and harmony and furthered the long-standing friendship between the two universities.
Group photo
The CI is thankful to the presence of Jill Cowley, Dean of ADH (Faculty of Art, Design, and Humanities) of DMU; Louise Peacock, Head of ADH and Chair of the CI Management Board; Jas Sandhu, Business Development Manager; Philip Rule, Director of Foreign Languages, Gavin Kew, Head of ADH Faculty of Operations, Dr. YANG Yingjun, Chinese Director of the CI, Prof. ZHANG Dawei, Director of USTB's Office of International Affairs, Ms. LI Bei, Deputy Director of USTB's Office of International Affairs, and heads of other DMU departments. Thanks also go to the CI staff for their wonderful performances.
Draft: The CI
Revision: CHENG Mingyuan