National Environmental Corrosion Platform (hereinafter referred to as NECP), approved by the Ministry of Science and Technology as one of the 23 national science and technology infrastructure platforms, is engaged in corrosion experimental study and data sharing. NECP is a national leading organization for corrosion tests and materials analysis, and is also a national platform for scientific research and personnel training in corrosion and protection.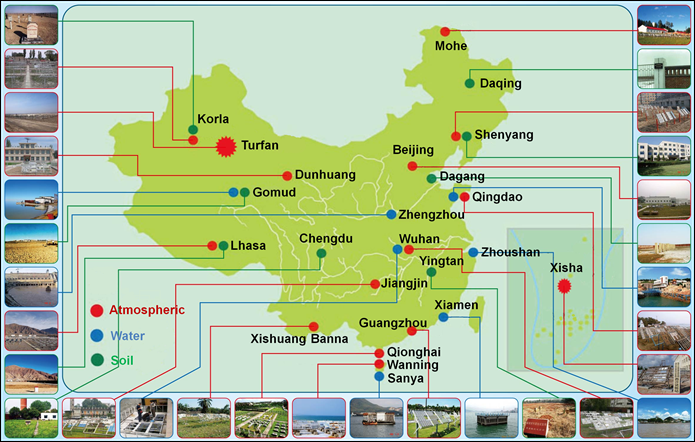 Over the years, NECP has been supported by the Ministry of Science and Technology, the National Natural Science Foundation of China, and the Ministry of Civil Affairs. At present, NECP has one R&D center and 30 national standardized field research stations geographically across China, including 15 atmospheric stations, 7 water stations and 8 soil stations, covering an area of 120 acres in total. NECP has invested over 300 million RMB to build world-class facilities with over 1,800 corrosion analysis equipment. In 2012, NECP opened its portal website -- China Gateway to Corrosion and Protection, which is the largest and most comprehensive corrosion website in China. NECP makes full use of modern information technology and effectively integrates scientific and technological resources, to provide information-based and networked scientific and technological support for fundamental research, technological R&D, enterprise innovation and major engineering projects.
NECP provides comprehensive expertise and services in the field of corrosion and corrosion control, covering field exposure tests, corrosion data accumulation and sharing, corrosion and environment monitoring, failure analysis, material and equipment life assessment, accelerated evaluation methods, guidelines for materials selection, structural design and corrosion protection technology for different environments, and more. NECP supports a wide range of industries such as oil & gas, electric power, nuclear, electronics, machinery, iron and steels, ships and offshore structures, aerospace and railway transportation.
In 2016, NECP received the Distinguished Organization Award from NACE International.